Justin Bieber & Hailey Baldwin Spotted At Marriage License Courthouse
By Hayden Brooks
September 14, 2018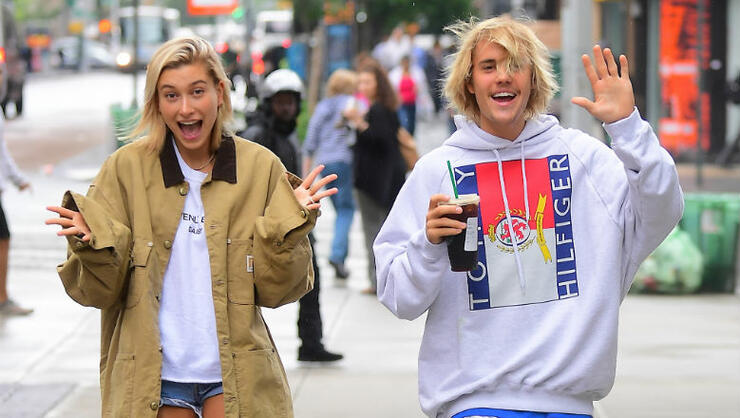 Justin Bieber and Hailey Baldwin reportedly visited the courthouse on Thursday (September 13) and the power couple had marriage on their minds.
As per a new report from TMZ, Bieber and Baldwin took to the Marriage Bureau in New York City and something went down. Emotions apparently took over the pop titan as he was seen crying and declaring his love for his fiancé. "I can't wait to marry you, baby," he reportedly said. While another insider claimed that the pop titan thanked a court official "for keeping it on the DL," a third source claimed that the court official was, in fact, a judge, which means they might have tied the knot. Still, TMZ said they can't confirm the marriage. They are only reporting their visit to the courthouse and the testimonial from the eyewitnesses.
Back in mid-August, the celebrity gossip outlet reported that the newly-engaged couple was going to wait until next year to get married. "They feel like they've already made the commitment, and that's the most important thing," the site reported.
Bieber and Baldwin got engaged in July after weeks of dating. After the news went viral, it was revealed that Bieber favored tradition for the engagement by asking Stephen Baldwin for her hand in marriage. As the story goes, Justin met Stephen in-person several weeks prior to asking the Hollywood titan for his blessing. Stephen is a minister in New York and believes Justin shares the same Christian values that he and his daughter hold, so the big ask was likely not up for debate. After Stephen gave his blessing, Justin went on to orchestrate the moment during their tropical getaway.
"Hailey, I am soooo in love with everything about you!" Bieber said at the time of the engagement announcement. "So committed to spending my life getting to know every single part of you loving you patiently and kindLY. I promise to lead our family with honor and integrity letting Jesus through his Holy Spirit guide us in everything we do and every decision we make."