Carrie Underwood Teases The Sex Of Her Baby: 'It's A Different Ball Game'
By Peyton Blakemore
September 19, 2018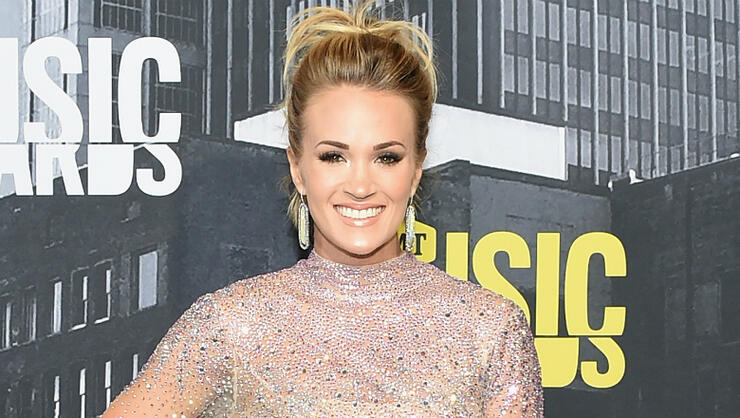 Carrie Underwood is having a... well, we don't know yet, but she does. The 35-year-old pregnant country singer stopped by The Ellen DeGeneres Show, which airs on Wednesday (September 19), to discuss her second pregnancy, but she made sure not to spill the beans on the sex of her baby.
"I do [know the baby's sex]," she told Ellen before explaining how she and her husband, Mike Fisher, aren't revealing the news just yet. "We like to kind of just hold on to things for a minute. I feel like everyone knows just everything about everybody. So, we'd just like to have a little secret for a little while."
"You can tell us in a few minutes," Ellen joked. "I can probably tell you what it is. I'm good at guessing. You have a little boy right? How are you carrying versus when you were carrying him? Are you higher or lower?"
"It's a different ball game [this time]. I feel like I didn't look pregnant and then woke up and looked like this," Carrie responded before seemingly realizing what Ellen was up to. "I feel like you're trying to get me to talk about it so I'll say he or she."
After Ellen denied Carrie's claim, saying she knew other ways to get Carrie to dish the gender, Carrie went on explaining how this pregnancy has been different from her first, calling it "a different ball game." With that, Ellen jumped in and said, "It's a girl. It is." However, the talk show host quickly changed her mind saying, "But you did say 'it's a whole new ball game,' which indicates it could be a boy. It's either a girl or a boy." After the two joked about the 50/50 chance of it being either, Ellen then locked in on her initial guess: "I do think it's a girl though. I can see it in your eyes."
Check out the interview below!
On Thursday (September 13) — hours ahead of the release of her fifth studio album, Cry Pretty — the "Love Wins" singer spoke to Jimmy Fallon about how she's feeling about expanding her family.
"We're excited to add to the family," she said before dishing about her three-year-old son Isaiah's feelings on becoming a big brother. "I don't think [he knows what's happening] for real. He'll be really sweet and talk to my belly and kiss my belly. He's the sweetest little boy. I mean, no kid can really know that their life is going to change. He'll just have to share mommy."
"We did ask him [if he had a baby name idea], and he did say, 'Isaiah Michael Fisher,' which is, of course, his name and would be confusing," Carrie joked. "He wants to name everything his name because he thinks that's special."
Last month, the "Before He Cheats" singer announced that she and her husband are expecting their second child, while also announcing her upcoming "Cry Pretty Tour." "You might be wondering or asking, 'Carrie, why is your tour starting in May?' Well … yay!" she said, revealing balloons that spelled out "BABY" above her head. "Mike and Isaiah and I are absolutely over the moon and excited to be adding another little fish to our pond."
Photo: Getty Images
Chat About Carrie Underwood Teases The Sex Of Her Baby: 'It's A Different Ball Game'