Dua Lipa, Logic & More Hit Daytime Stage At 2018 iHeartRadio Music Festival
By Nicole Mastrogiannis, Emily Lee, James Dinh & December Savage-Brown
September 23, 2018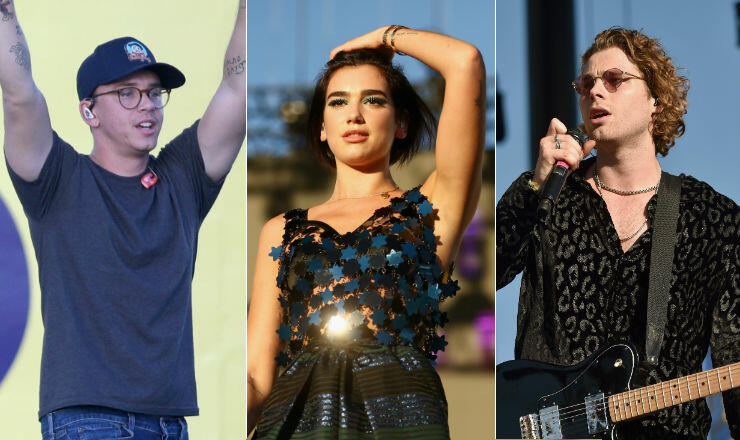 After an EPIC night one of the iHeartRadio Music Festival, the festivities continued on Saturday, September 22nd during the Daytime Stage at the iHeartRadio Music Festival.
Taking the stage during the outdoor event were Logic, Dua Lipa, 5 Seconds of Summer, Lil Uzi Vert, Dustin Lynch, Bazzi, Belly, Bobby Bones and The Raging Idiots, Greta Van Fleet, Bad Bunny, grandson, Leon Bridges, MAX, Badflower, Evvie, The Vamps, and Drax Project.
From surprise on-stage collaborations to touching tributes, take a look at all of the biggest and best moments from the Daytime Stage at the iHeartRadio Music Festival below. Dua Lipa came to out to the iHeartRadio Day Stage to serve! I don't think any of us were prepared for the amount of looks that she provided. You'd think it would be impossible to somehow look like a model while singing, dancing, and jumping on stage, but somehow Dua did it. We were blown away. After some heavy name chanting, Logic hit the stage as closer for the Daytime Stage and brought some of his hits and his go-to agenda of peace, love, and positivity to his set. Among the cuts in his setlist included "Everybody" and "1-800-273-8255," but the biggest highlight was when a front row fan offered him a journal of notes she had written. Unsurprisingly, it brought the young female to tears.
Funniest Reactions to 5 Seconds of Summer
Now although 5SOS definitely received a lot of love today for their great performance, it was the hilarious tweets that caught our eye. Some Twitter users had a few questionable things to say about the Australian pop band.
Lil Uzi Vert Shows Us His Dance Moves
Between the groovy dance moves and the constant stream of hits, we couldn't focus! Uzi certainly has a signature style that has definitely added to him rising in the ranks of hip-hop musicians.
Bad Bunny Delivered Encouraging Speech About Hard Work
Bad Bunny repped for Reggaeton and Latin trap by bringing some of his biggest solo, collab-packed hits, and love for the Latin community to his high-energy set. Introduced by Enrique Santos and Dillon Francis, the 24-year-old star donned backward hats, oversized palm tree shirt, and dark shorts as he made his way through "Estamos Bien," "Cambea" and "Krippy Kush," his team-up with Farruko and Rvssian. However, Bunny's most prolific exposure has arrived, courtesy of his Cardi B and J Balvin's smash, "I Like It."
"I'm here to represent the island that I'm from, Puerto Rico, and all the Latinos. Everything I'm doing with music, to be in front of you, is a dream. Thank you," he told the crowd in Spanish, admitting that you're only able to accomplish a dream with hard work. "If you are like me, you have a dream like me, go out there and chase it and work towards it. Motivate and believe in yourself. Thank you for accepting me and letting me perform for you."
Evvie Paid Tribute To Aretha Franklin
The Four: Battle For Stardom season one winner and iHeartRadio's new On The Verge Artist, Evvie, paid tribute to Aretha Franklin when she performed "I Never Loved A Man (The Way I Love You)." Before performing the song, she told the crowd, "I wanna give tribute to one of my biggest inspirations, Miss Aretha Franklin."
Drax Project Covered Justin Timberlake
Justin Timberlake is set to perform later at Day 2 at T-Mobile Arena, and Drax Project decided to pay tribute to the iHeartRadio Festival performer by covering Justin's hit song "Cry Me A River."
There Was A Mini Big Time Rush Reunion
James Maslow was at the Daytime Stage to help introduce rock band Badflower, and in the process, had a mini Big Time Rush reunion with his former bandmate Kendall Schmidt. Kendall kicked off the festival the previous night performing with his new band Heffron Drive. LOOK AT THE BTR CUTENESS:
Bobby Bones And The Raging Idiots Wore Matching Track Suits
The band that dresses in matching outfits together, stays together.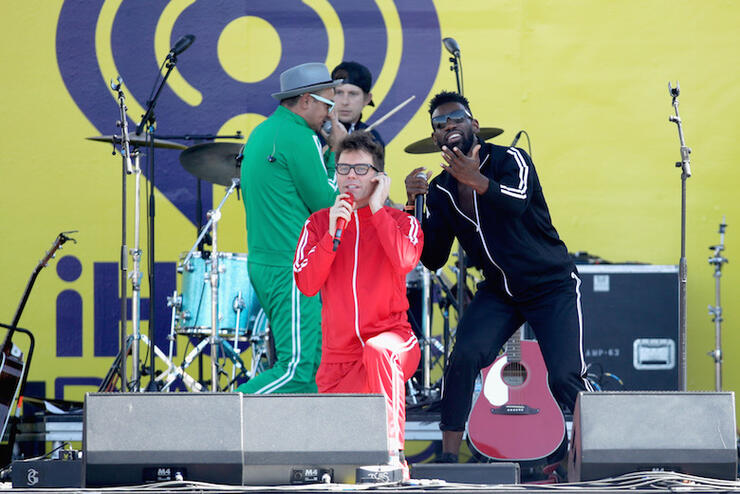 Dustin Lynch Covered Drake's "God's Plan"
Dustin Lynch put some country flare on Drake's hit song in the middle of his set.
Baby Shark Performed In The US For The First Time!
All we gotta say is "Doo doo doo doo doo doo!"
Greta Van Fleet Brought The Gold Sequin To The Stage
With all eyes in the 98-degree grounds on lead singer Josh and his all-gold look with appropriately matching exposed mid-riff and feather earrings, the rocker ventured through the mini-setlist of tracks like "Highway Tune," "When the Curtain Falls," "Black Smoke Rising," and "Safari Song."
Belly Braved The Scorching Heat In A Hoodie
Speaking of outfits, Belly blazed the 100-degree weather in a hoodie as the XO signee went through his catalog of songs from past and present. "You see my big ass up here moving. I wanna see everyone in this f**king crowd moving," he told the audience in the casual ensmble. Next up for Belly was "Man Listen," an anthem that was released alongside Madden NFL 18 G.O.A.T edition, "Maintain," a cut featured on his upcoming album, his remix of G-Eazy's mega-smash, "No Limit," and more.
Bazzi's Hotness Distracted Fans From The Festival Heat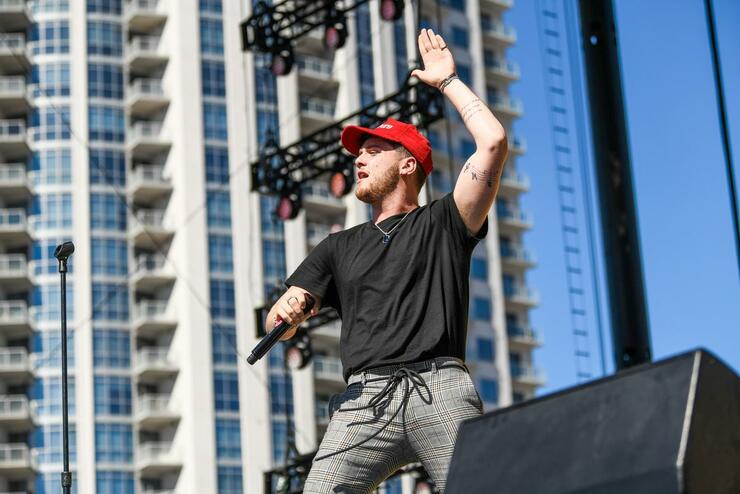 Fans were living for the performance, pushing through the hot Las Vegas heat to watch such an epic show. Most, however, were more focused on his looks than the nearly 100-degree heat.
Chat About Dua Lipa, Logic & More Hit Daytime Stage At 2018 iHeartRadio Music Festival