Dean Unglert Thinks Colton Underwood's 'Bachelor' Season Will Be 'Horrible'
By Peyton Blakemore
September 25, 2018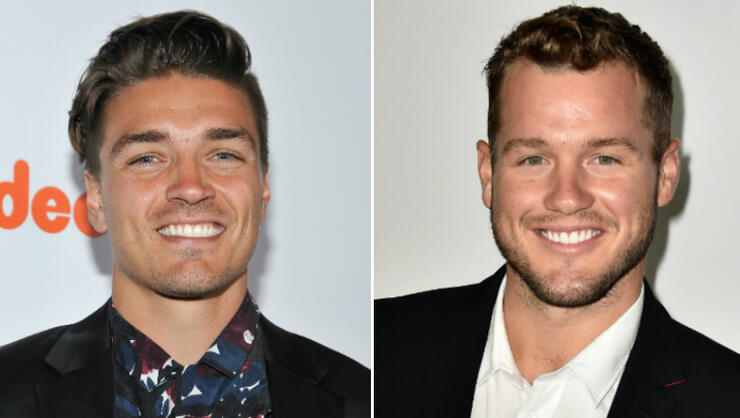 To say Dean Unglert is not a fan of The Bachelor's decision to have Colton Underwood as the dating series' next lead would be an understatement. While at the 2018 iHeartRadio Music Festival, The Bachelorette season 13 star let it be known how he really feels about Colton's role as the new Bachelor.
"I love Colton, don't get me wrong, but [he's] not my Bachelor," Dean told Entertainment Tonight. "He's a very nice person... He's well-intentioned. He is beautiful. I just think it's going to be a dumpster fire." (Yes, he said "dumpster fire"). As to what inspired Dean's strong feelings, he said it's because he sees himself in Colton, and not in a good way.
"You know, [he's] a little young. He's younger than me," he explained of the former NFL player who is 26-year-old. "He might be more advanced in his life than I am, but I don't necessarily see him marrying the woman that he chooses... I don't think he knows exactly what he wants." Adding, "You saw it on Paradise ... he said something along the lines of, 'I am the person that I think everyone wants me to be.' And the public pressure to be someone is very real on The Bachelor... and I think he'll do what he thinks people want him to do. Not necessarily what's right for him."
Dean continued, "I imagine Colton's season going the same way mine would [have], where he wants to do right by everyone and wants no one to hate him and that's going to just go ahead and bite him right ahead in the butt. I'd be a horrible Bachelor for the same reasons Colton would be horrible and will be horrible." (Tell us how you really feel, Dean)
Dean also revealed who he believes would have been a better choice as Bachelor over the wholesome football player-turned-philanthropist. "It should've been Jason, it should've been Blake, it should've been Ben, maybe Nick again. It could've been Peter," he admitted.
Also not on the Colton as the next Bachelor train were former Bachelor stars, Nick Viall and Ben Higgins. The two also spoke to ET while at the 2018 iHeartRadio Music Festival and they too shared the same concerns as Dean.
"I think we're going to see [Colton] struggle," Ben revealed. "I think it's going to be a very authentic journey of like, struggling, success, failure, a lot of tears. The problem is, he's pretty indecisive." Nick agreed, saying, "It's very difficult to be the Bachelor and go through that process. It's that much more difficult post-filming to try to you know, protect that relationship and kind of go through some of the trials and tribulations that kind of come with the show, the kind of outside influences, and stresses that come with it and again, it'll be curious to see how Colton handles that with limited dating experience in general."
Colton was named the next Bachelor earlier this month. He is reportedly filming the 23rd season currently.
For the latest Bachelor tea and updates on Dean's dating life, make sure to check out Dean's podcast, "Help! I Suck At Dating With Dean, Vanessa & Jared."
Chat About Dean Unglert Thinks Colton Underwood's 'Bachelor' Season Will Be 'Horrible'