DJ Snake Drops 'Taki Taki' Feat. Selena Gomez, Cardi B & Ozuna: Listen
By Paris Close
September 28, 2018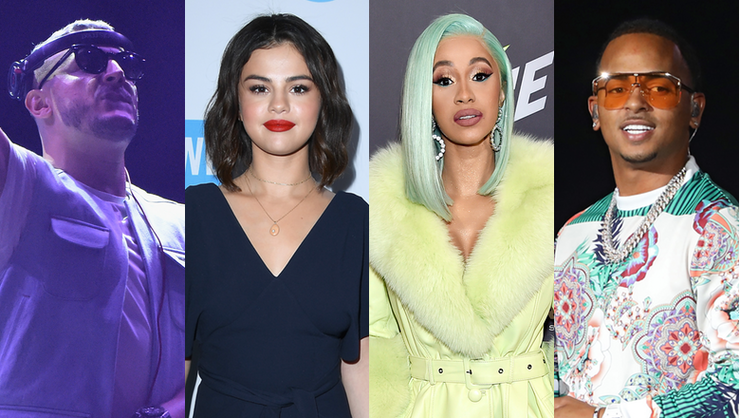 DJ Snake's new jam with Selena Gomez, Cardi B, and Ozuna is here — and it's fire!!!
As promised, on Friday (September 28), the French DJ and music producer finally delivered his long-awaited ensemble smash "Taki Taki," a blazing collab that explores the provocative idea of love going beyond playful teasing done on the dancefloor.
The club-worthy banger pays homage to the seductive styles and rhythms of Cuban rumba culture, from the thumping percussion to the hip-shaking bass grooves. The record also features Latin-language verses from each artist involved in the project, making it the perfect go-to for any fiesta.
Listen to "Taki Taki" below:
We first got the drop the record toward the latter end of August, courtesy of some behind-the-scenes footage shared to Instagram by the "I Like It" rapper. "Soon come 😉 ON SET !" she captioned a pic of a line of director's chairs from the set of what was most likely the music video for the track, as Cardi was also pictured with Gomez, and the Puerto Rican reggaeton star in another Instagram post.
If you enjoy the song as much as we did — particularly Cardi and Selena's sassy verses — you might be surprised to know that their involvement on the track came with the fortune of an afterthought.
DJ Snake revealed in an interview with Billboard that he envisioned the song with only Ozuna in mind at first but later decided to expand the melody with a much-needed feminine presence. "I wanted more females on the record … Spanish speaking," he explained. "So, [these] two queens right here … they blessed me with this greatness and dope energy."
Photo: Getty Images
Chat About DJ Snake Drops 'Taki Taki' Feat. Selena Gomez, Cardi B & Ozuna: Listen