iHeartRadio ALTer EGO 2019: twenty one pilots, Muse, The Killers & More
By Nicole Mastrogiannis
October 1, 2018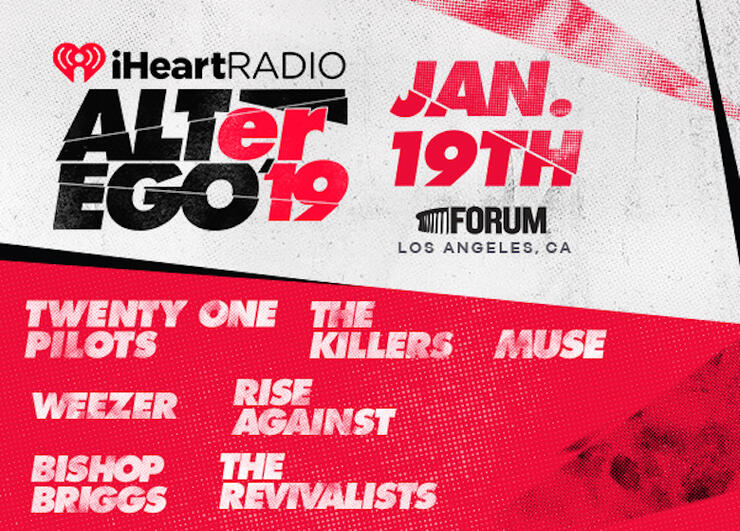 Ready to rock? Of course you are, because iHeartRadio's ALTer EGO is back! The alternative rock mega show is returning to The Forum in Los Angeles on January 19, 2019, and is bringing together an incredible lineup of alternative rock superstars.
Taking the stage at the second annual iHeartRadio ALTer EGO are twenty one pilots, Muse, The Killers, Weezer, Rise Against, Bishop Briggs, and The Revivalists, bringing the music of iHeartRadio's popular Alternative rock stations and the iHeartRadio app to life.
Tickets for the 2019 ALTer EGO go on sale to the general public on Friday, October 5 at 10:00 am PT via Ticketmaster.com. However, listeners will have access to a limited number of tickets to the show through ALT 98.7, LA's New Alternative, 24-hour Pre-Sale. Get on The LIST for access to tickets beginning Thursday, October 4 at 10:00 am PT through Friday, October 5 at 10:00 am PT or while supplies last.
Fans will also get the chance to win their way to Los Angeles to rock out. Beginning December 26, iHeartRadio will launch a nationwide promotion to give Alt-Rock fans across the country the opportunity to win a trip to Los Angeles to attend iHeartRadio ALTer EGO. The promotion will run across more than 85 Alternative, Rock and Classic Rock 90s iHeartRadio stations — so make sure to listen!
And if you can't make it LA this year, the event will broadcast live across over 70 Alternative and Rock iHeartRadio stations, so you won't miss a moment of what will be an absolutely epic concert.
For more information, visit iHeartRadio.com/alterego.
Chat About iHeartRadio ALTer EGO 2019: twenty one pilots, Muse, The Killers & More