Beatles Chief Engineer Geoff Emerick Dies at 72
By Andrew Magnotta
October 3, 2018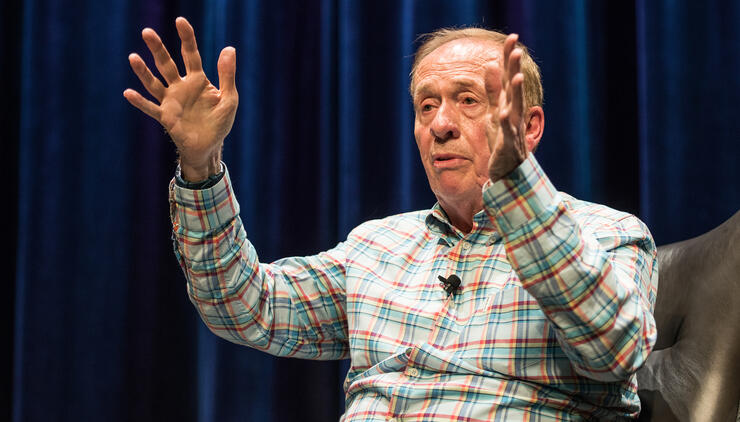 Famed Beatles engineer Geoff Emerick has passed away at age 72.
Emerick reportedly suffered a massive heart attack Tuesday while on the phone with his manager, William Zabaleta. Zabaleta said he immediately called for help, but there was nothing the paramedics could do.
"Today at around 2 o'clock, I was making my way back from Arizona to Los Angeles to pick up Geoff so we could transport some gold records and platinum plaques to our show in Tucson," Zabaleta told Variety. "While on the phone, he had complications and dropped the phone. I called 911, but by the time they got there, it was too late. Geoff suffered from heart problems for a long time and had a pacemaker ... When it's your time, it's your time. We lost a legend, and a best friend to me, and a mentor."
The four-time GRAMMY Award-winner Emerick recorded Beatles classics Sgt. Pepper's Lonely Hearts Club Band, Abbey Road and the White Album, in addition to many other groundbreaking albums by other artists.
Emerick helped hone early solo albums by Paul McCartney. His great reputation also earned him producing jobs with Elvis Costello, Art Garfunkel, Jeff Beck, Cheap Trick and many others.
Emerick was something of a prodigy, getting hired as an assistant engineer at Abbey Road at age 15. Just a few months into his tenure, Emerick found himself assisting Beatles producer George Martin on work by the Fab Four.
Photo: Getty Images
Chat About Beatles Chief Engineer Geoff Emerick Dies at 72