You Won't Believe The $200K Pre-Birthday Gift Offset Just Bought Cardi B
By Peyton Blakemore
October 5, 2018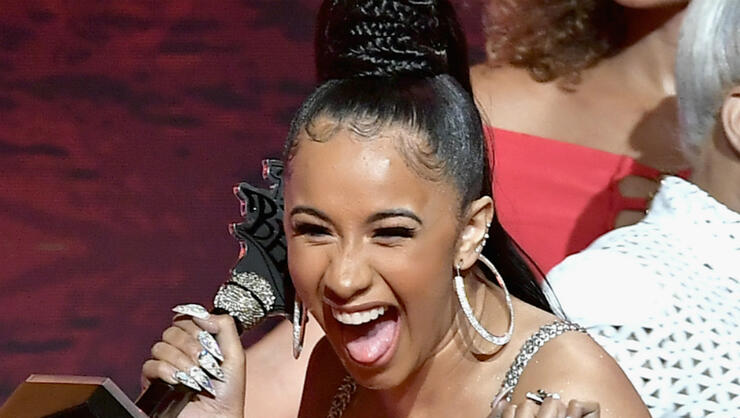 Cardi B may not have her license, but that doesn't mean she can't continue to add to her car collection.
On Thursday (October 4), the "I Like It" rapper's husband Offset surprised her with a Lamborghini Urus, the world's first Super Sport Utility Vehicle, as a pre-birthday present. However, Cardi's surprise came after Offset played an epic prank on her that brought her to tears.
"So, I was going to go to L.A. and motherf**kers called me talking about 'it's an emergency. I gotta go to Atlanta because Offset fainted,'" she explained on Instagram. "And I'm just like, 'Oh my God, what is going on?'" she said before showing her new charcoal gray $200K ride. "And look what I got here. I'm so happy. Da*n, now I'm really going to have to learn how to drive." Cardi additionally captioned the Instagram video, "I'm happy and mad at the same time😩 i been crying and praying for like 2 hours .I love you babe ❤️❤️Thanks for the gift .Please don't scare me again you know i suffer from anxiety 😩😩😂LAMBTRUCK."
In a second IG video, Cardi explained just how much stress Offset caused her by lying about being sick. "I've been praying for the last two hours to every ... religion there is, like 'God I hope [Offset] okay. Why [is] nobody been answering my calls, acting funny. I don't want to raise my baby by myself. Jesus Christ, I hope everything is okay,'" she explained before gushing about her new ride. "[But now] I'm so happy." She added in the video's caption, "I wanna make love and fight at the same time."
Offset's gift comes less than a week before Cardi B's 26th birthday on October 11.