Def Leppard, RAtM, Stevie Nicks, The Cure Headline 2019 Rock Hall Nominees
By Andrew Magnotta
October 9, 2018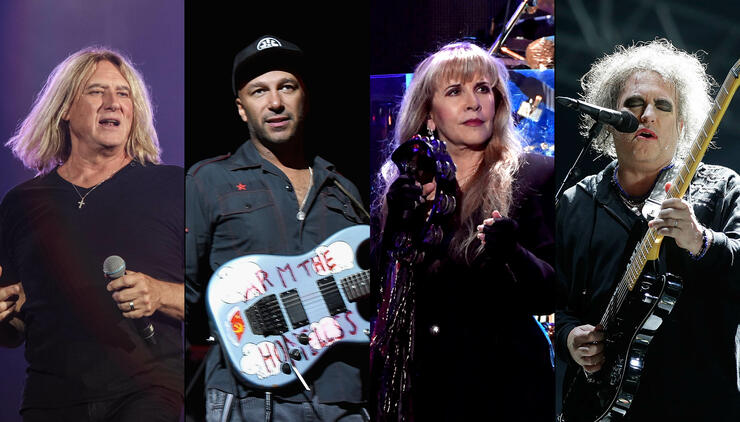 The Rock and Roll Hall of Fame announced the nominees for its 2019 class Tuesday morning.
It's a familiar group — and not just because it's made up entirely of rock and pop stars. Nine of the 15 artists on the Rock Hall's list have been nominated before.
Rapper, actor and multi-time GRAMMYs host LL Cool J and German electronic music pioneers Kraftwerk have each been nominated four times. While U.K. rock/pop group The Zombies have been previously nominated three times.
But this year's class also includes some heavy-hitting first-time nominees. Def Leppard and Stevie Nicks have never been nominated previously (excluding Nicks' 1998 induction as part of Fleetwood Mac). New wave legends Devo and dynamic genre-shapeshifter Todd Rundgren are also among the first-time nominees.
Which acts actually get into the Rock and Roll Hall of Fame in 2019 is up to an international group of more than 1,000 member, though fans can influence the vote by casting a ballot online at RockHall.com or by voting in person at the Rock Hall in Cleveland.
Fans are allowed to cast one ballot per day through December 9.
The top five artists in fan voting will comprise a fans' ballot that is tallied along the other 1,000 or so ballots.
Tickets for the induction itself on March 19, 2019, at Barclays Center in Brooklyn, NY, go on sale in January.
Check out the full list of nominees below.
Def Leppard
Devo
Kraftwerk
LL Cool J
Rage Against the Machine
Stevie Nicks
Todd Rundgren
The Zombies
Photos: Getty Images
Chat About Def Leppard, RAtM, Stevie Nicks, The Cure Headline 2019 Rock Hall Nominees