Selena Gomez, Cardi B & Ozuna Sizzle In DJ Snake's 'Taki Taki' Video
By James Dinh
October 10, 2018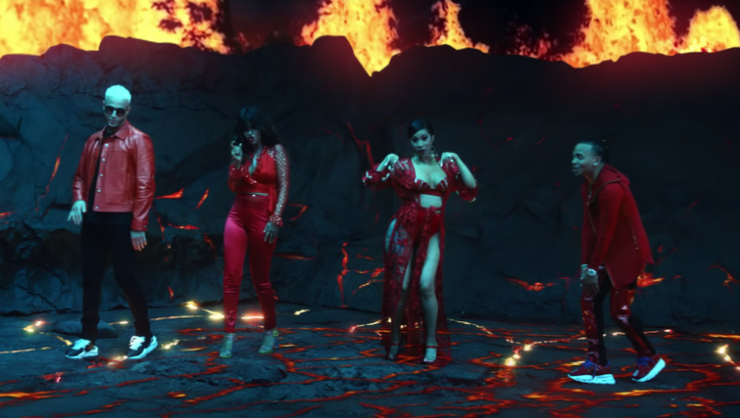 DJ Snake's red-hot "Taki Taki" collaboration featuring Selena Gomez, Cardi B, and Ozuna has an official video to accompany the dancefloor banger.
After the 2018 American Music Awards on Tuesday night (October 9), the hit producer dropped the Colin Tilley-directed visual and it sees the foursome in a sizzling volcano. Dressed in red, the quartet work in sly smiles and swag as they move to the Latin-charged track. Beyond the fiery scene, several other set-ups weave in and out of the clip, including a forest for Gomez and the inside of a neon-lit mansion for Bardi. It's only the beginning of the "Taki Taki" takeover as the audio track has already earned 20 million YouTube views and 60 million streams across all platforms.
Expect to hear the smash hit during DJ Snakes' headlining shows in New York City on October 26th, Houston on October 27th and Los Angeles on October 31st. He recently revealed in an interview with Billboard that he envisioned the song with only Ozuna in mind, but decided to expand the melody to include the pop star and rapper later down the line. "I wanted more females on the record … Spanish speaking," he explained. "So, [these] two queens right here … they blessed me with this greatness and dope energy."
Meanwhile, Bardi spoke to the international appeal during her recent visit to the 2018 Billboard R&B/Hip-Hop Power Players event. "I only heard it with Ozuna, then I find out Selena Gomez is gonna be on it, I'm like, 'Oh sh*t, I know it's gonna be a hit,'" the rapper explained. "It's gonna be a really good hit. International hit. It's very international."
Chat About Selena Gomez, Cardi B & Ozuna Sizzle In DJ Snake's 'Taki Taki' Video