ZZ Top's Billy Gibbons Doesn't Know "What's Lurking" in His Beard
By Andrew Magnotta
October 10, 2018
One of the most famous beards in show business is kind of a mystery even to its owner.
Indeed, few beards are more iconic than those worn by ZZ Top's Billy Gibbons and Dusty Hill for the past five or so decades.
Of course, ZZ Top has happily played up the novelty of their bristly aesthetic in album covers and music videos over the years. Nowadays the face fuzz is the stuff of legend. Were it to be sheared away, the remains would rightly wind up in the Rock and Roll Hall of Fame.
Q104.3 New York's Jonathan Clarke recent asked Gibbons about a long-standing rumor that he and Hill were offered money to shave.
"To this day we don't know what's lurking in these chin whiskers of ours," he says. "Early on, we had taken a break off the road and disappeared. We were staying in touch by telephone. When we got back together, these bristles that were starting to sprout had taken on an epic proportion."
The guitarist then confirmed, yes, they were offered money to shave — obviously not enough, though.
"Yeah, we were offered — we had to deny it, we couldn't bring ourselves to do it," he explained.
ZZ Top shaving its famous beards would be akin to KISS revealing their faces after so many years behind makeup.
Gibbons went into more detail in an interview several years ago, in which he revealed Gillette offered he and Hill a $1,000,000 endorsement deal in 1984, contingent upon the prickly pair shaving clean.
But even in 1984, Gibbons wasn't sure he could stomach seeing his face without a beard. Nowadays, he's not even sure what he looks like under all that hair.
You can see Gibbons, his beard and his solo band in person as they tour North America in support of Gibbons' new album, The Big Bad Blues.
Photo: Getty Images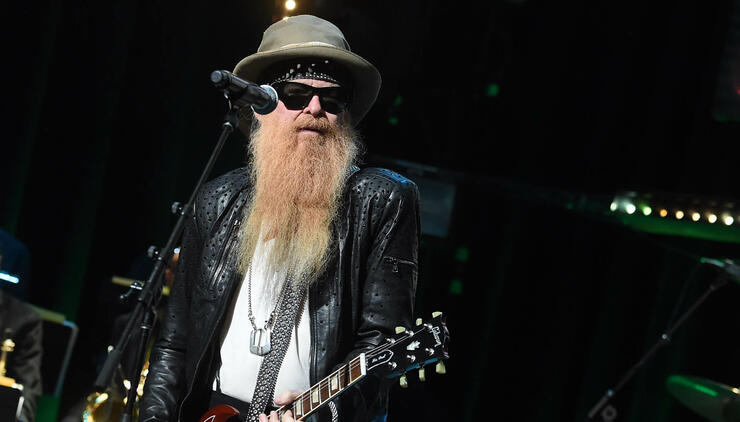 Chat About ZZ Top's Billy Gibbons Doesn't Know "What's Lurking" in His Beard