Is Cardi B Set To Play Fran Drescher's Daughter In A Reboot Of 'The Nanny'?
By Lauren Crawford
October 11, 2018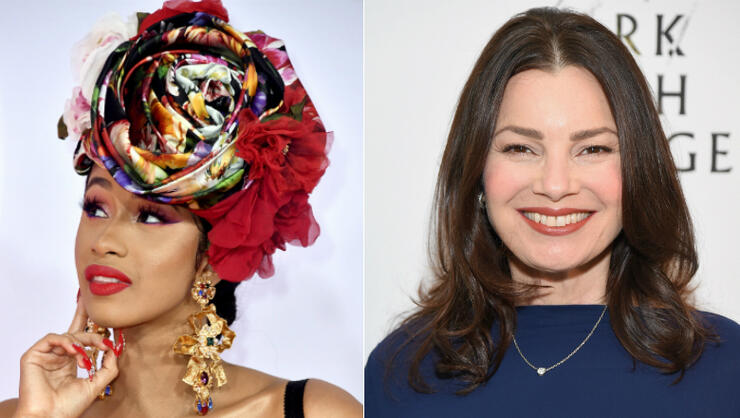 "Oh my God!" Fran Drescher wants Cardi B to play her daughter on a reboot of The Nanny! (She has style, she has flair and that's why Fran wants Cardi to be there! Get it? Like the theme song!)
While chatting with People TV on Wednesday (October 11), Fran spoke about the idea of a possible revival of the 90s sitcom. "I'm totally down with doing it," she admitted. "I don't know what is going on with some of these networks out there because they do not seem to be hip to the fact that there's an obsession amongst millennials for the show and moi!"
Speaking of millennials, Fran revealed that she'd like to star alongside one of her favorite 90's babies, Miss Cardi B, if a Nanny reboot actually came to fruition. "I wanna do a sitcom with Cardi B," she gushed. "Wouldn't she be great as my daughter?" ( I can hear it now, "okurrrrrr, mom.")
Fran's love for the Bronx rapper isn't one-sided. Just last month, Cardi stepped out in a head-to-toe cheetah ensemble, equipped with furry cheetah glasses, during Milan's Fashion Week. The "I Like It" rapper attributed her look to the Nanny star, captioning an Instagram photo of herself in the outfit, "Fran Drescher in @dolcegabbana."
"I was so flattered," Fran said of Cardi's outfit. "I just thought she paid homage to me wearing animal print and said 'Fran Drescher.'" Adding, "And then I got my juices flowing and thought, 'Wait a minute, she's from New York, we both have funny voices, she could be my daughter!'" To keep with the storyline, the 61-year-old actress said that her on-screen love, Maxwell Sheffield, couldn't be the father if Cardi played the role of her daugther— an adjustment Fran seemed all-too-excited to make. "I would have to have a man of color," she said. "I'm down with the brothers."
Chat About Is Cardi B Set To Play Fran Drescher's Daughter In A Reboot Of 'The Nanny'?