Drake Finally Gives His Side Of The Kanye West & Pusha T Feud
By Peyton Blakemore
October 13, 2018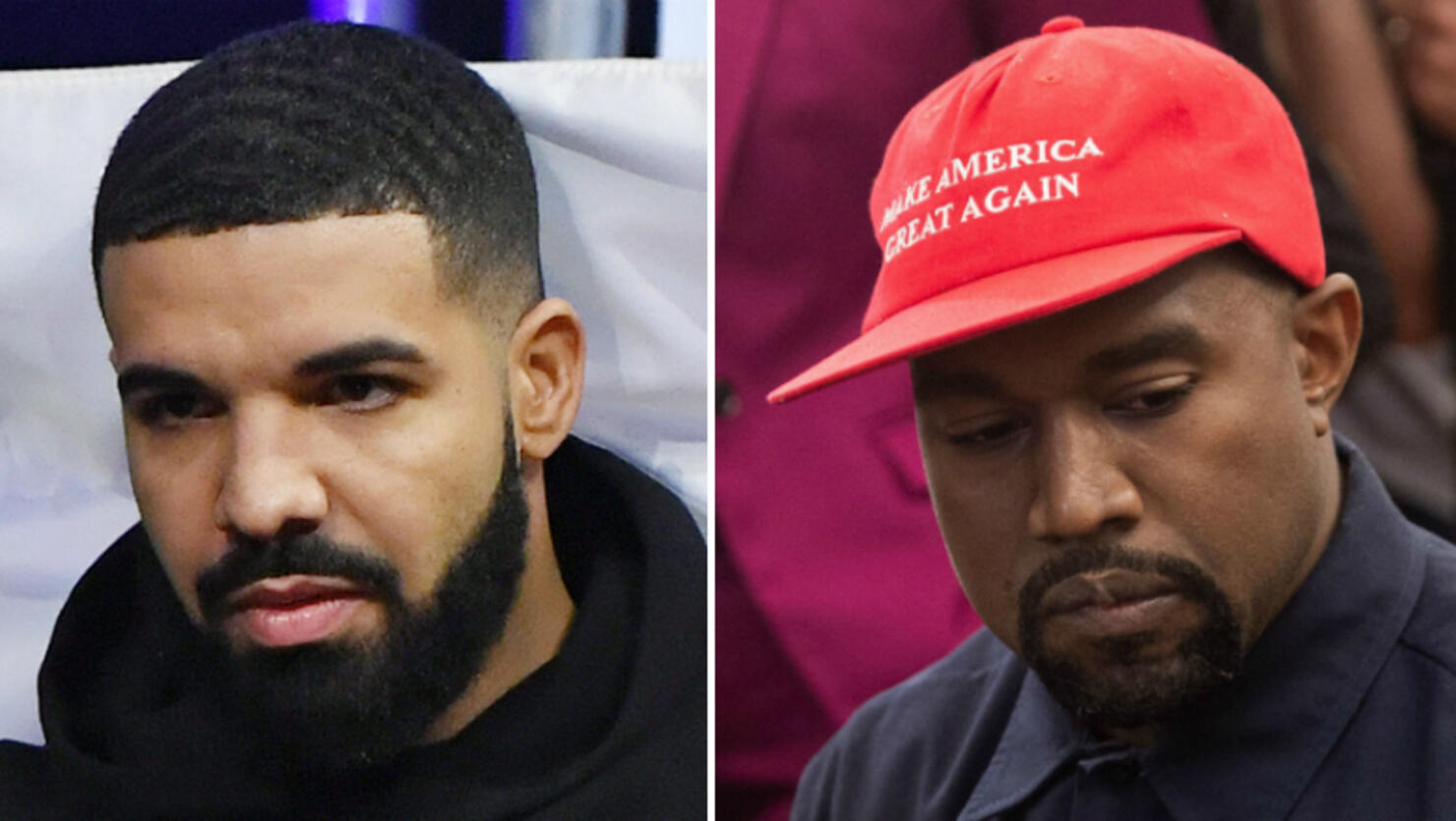 Now we see why Drake was in his feelings.
On Friday (October 12) night's episode of The Shop, the "God's Plan" rapper finally opened up about his feud with Kanye West and Pusha T. (And in Drake's words, the whole thing is pretty "dark.") Drake didn't hold anything back while chatting with Lebron James, as he went into extreme detail about how his beef with Ye and Pusha began. (Buckle up because it's one heck of a story!)
According to the "In My Feelings" rapper, he and Ye connected before the release of their albums, Scorpion and Ye, respectively. The "I'm Upset" rapper claimed that Ye persuaded him into discussing Scorpion, which was 60 percent done at the time, under the guise that he wanted to help him with it. "I ended up linking with Ye, and he sold me on this whole speech of like, 'I'm in a great place, I'm making money, and I'm a father, and I wanna be Quincy Jones and help you, but in order to do that, you've gotta be transparent with me. And you gotta play me your music, and you gotta tell me when you're dropping. And I know you don't like to do things like that,'" Drake recalled. "And so I was in the studio, guess we all kind of felt a genuine vibe from it. So I play him my music, and I told him when I was dropping [Scorpion]."
However, Drake said he was unaware that Kanye was also working on his eighth studio album at the time he invited him to Wyoming to record. "He played me 'Lift Yourself' and he was like, 'Yo, you can have this if you want.' And I was hype. I started writing to it. And then he was like, 'Yo, you gotta come to Wyoming.' So Wyoming happened," he shared. "And then [my producer Noah "40" Shebib] went to Wyoming early, and he was like, 'Man, I'm here a day early, man. Something's off.' He's like, 'This guy is working on an album.' And I was like, 'For real? He just told me... he wanted to give me beats... And he said he wasn't dropping until like October, November, something like that," Drake continued. "And I'm like, 'It's all good, let's just go, and let's just see what it's about.' So I went and ended up pretty much spending the majority of my time working on his music, just trying to like cook up ideas for him."
It was that trip that changed everything between the rappers as Drake not only opened up to Ye about his music, telling him his plans for a June 15 release date, but also his personal life. "I'm in Wyoming, I play him 'March 14' (the track about Drake's son). I send him a picture of my [then-secret] son," he recalled. "I tell him I'm having trouble with my son's mother. We had a conversation." However, it didn't take long for Kanye to allegedly betray Drake's trust. The "Nonstop" rapper claimed that Ye's five albums' release dates (Ye produced and released five albums this summer) fell in the days and weeks in accordance to when he told Kanye he planned to drop his album. "I wake up [the next day], and all these dates are out. Then the next two days, whatever, I wake up now to this text from him, passive like, 'Yo, I love you brother,'" he said. "'Lift Yourself' (the song Kanye said he wanted to work on with Drake) comes out with [Kanye] just talking nonsense. Oh, this guy's trolling me. This was like a manipulative, like, 'I wanna break you' thing. So I said alright. I'm gonna go back to distancing myself again. I know what this is."
Despite Drake distancing himself from Ye, the drama continued with the release of Pusha T's album, Daytona. "Then, the first album drops. And of course, there's a diss song ("Infrared") toward me that [Kanye] produced, that's talking about [my] writing? I was just there with you as friends helping you, and now you're dissing me," he explained. "So I'm like, man, this is dark."
As fans know, Drake ended up responded to Pusha's diss track with "Duppy Freestyle," and Pusha later dropped "The Story of Adidon," where the "If You Know You Know" rapper revealed that Drake had a secret son, and wished death upon his best friend, 40. "People love to say, like rap purists and people who just love confrontation, they love to say, 'Aye there's no rules in this shi*.' But there are f**ing rules in this sh*t," Drake explained. "And I'm gonna tell you something: It's like, I knew something was gonna come up about my kid. They had to add the deadbeat thing to make it more appealing, which is fine. I understand that. Even that, I was like, OK. The mom and dad thing, whatever. You don't even know my family. But I'mma tell you, wishing death on my friend that has MS… I study rap battles for a living. Now when you mention defenseless people who are sick in the hospital, that passed away, that really sent me to a place where I just believed then, and believe now, that there's just a price that you have to pay for that. It's over. You're gonna get… someone's gonna f**king punch you in the f**king face. The sh*t's done, the event's over."
Adding, "I wanted to do other things. I didn't wanna further your reputation or your career by rapping back at you and having this exchange. And that was it for me." Drake also explained why he ultimately chose not to respond to Pusha's diss track despite recording one that he said would have been one "hell of a chess move." "I got home and I just listened back to it, and I was like, man, this is not something I ever wanna be remembered for," he said. "This is not even a place that I necessarily want to go... I would much rather live with that than the things that I was about to... the research I did, the things that I was gonna say, and the places that I was gonna go. Not only for him, but the other guy too."
Photo: Getty Images