Rush Made a Big Mistake on Its 'Hemispheres' Album, Geddy Lee Says
By Andrew Magnotta
October 23, 2018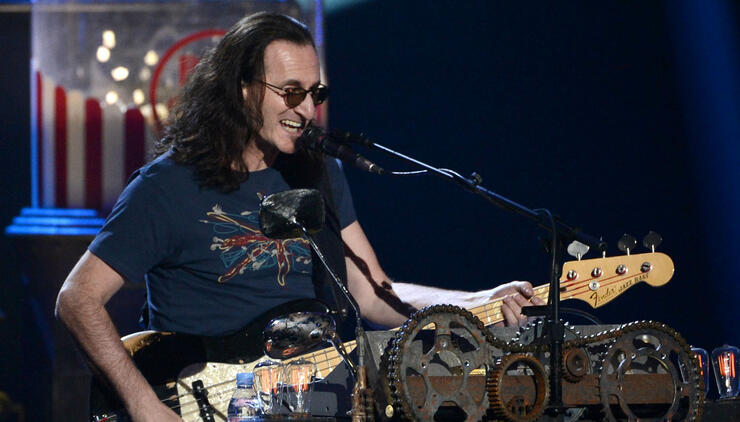 While Rush is celebrating the 40th anniversary of its prog rock masterpiece, Hemispheres, Geddy Lee is reminded of one of the album's great mistakes: its key.
There's no denying the endurance of the album as a classic. But the Lee says Rush got so wrapped up in writing the most complex music of its career, he never stopped to think whether he could sing any of it.
The bassist, keyboardist and front man Lee was asked by Rolling Stone why it's been said that he disliked playing music from Hemispheres on stage.
"...[We'd] written the whole thing in a sort of house where we weren't actually performing any of this stuff live with vocals," Lee explained. "And it was happening at such a rapid pace that I'd sketch out, 'Yeah, yeah, this vocal's gonna be there. That'll work. This melody works.' And we just assumed that when we got all the tracks down and did the vocals, it would work a treat."
Lee says they were sadly mistaken. Nearly every vocal part sits in a very uncomfortable range for him. But by the time they realized it, the music had already been completed.
"When I actually got to record vocals, which was literally weeks and weeks later in London at Admission Studios, I came to realize that we'd written the whole album in an awkward key for me. So it was very difficult to sing."
He clarified that singing and playing at the same time never intimidated him, "that's just a matter of rehearsal. But singing at that range — even for my goofy voice — was a challenge. ... What made it difficult to play huge chunks of live was the range it was in. And I wouldn't even dream in those days of transposing it to another key — that would have felt like too big of a compromise."
In later years, Lee says transposing the keys of songs to better accommodate his voice became common for Rush.
He lamented that the Hemispheres producer, Terry Brown, never suggested changing the keys to make singing that music live more realistic for Lee.
"But it was a lessons, and it was a mistake I made a couple times in my career — not doing enough diligence with what key you're playing in. So of course that was a huge wake-up call."
The super deluxe edition of Hemispheres is available November 14.
Photo: Getty Images
Chat About Rush Made a Big Mistake on Its 'Hemispheres' Album, Geddy Lee Says