Billie Eilish Expels Black Liquid in Macabre 'When The Party's Over' Video
By Katrina Nattress
October 25, 2018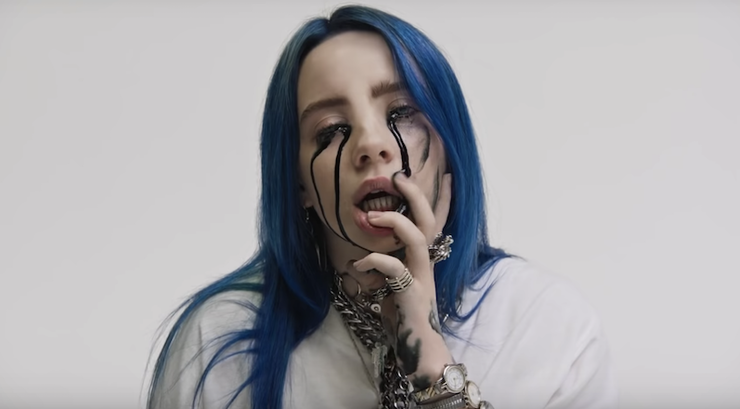 Billie Eilish is showing her macabre side with the visuals for her latest single, "when the party's over." The video shows the 16-year-old dressed in all white and chains, sitting in a sterile, all white room, with a glass of black liquid placed on a table in front of her. She warily takes a sip, and then after a moment of hesitation chugs the glass as terror glazes over her face. Almost instantaneously, the same dark fluid begins to seep out of her eyes. She smears it on her face and on her clothing, and as the song progresses it gushes with more intensity. As the video nears its end, the camera veers downward, focusing on the white table, and its climax — though not terribly graphic — may be the most disturbing part of the whole clip.
"A bit ago, I was given this beautiful piece of art from a fan that was a drawing of me with black eyes leaking. I thought it was visually really dope and I wanted to physically create it." Eilish explains in a statement about the video. "I called everyone on my team and told them exactly what I had in mind. Everyone that worked on it was amazing and it turned out unreal!"
Watch the eerie video for "when the party's over" below.
iHeartRadio recently hit the Arcade with the young singer-songwriter. Take a look at what transpired here.
Photo: YouTube
Chat About Billie Eilish Expels Black Liquid in Macabre 'When The Party's Over' Video