Kanye Admits He's Been Used For Political Gain: 'My Eyes Are Now Wide Open'
By Lauren Crawford
October 31, 2018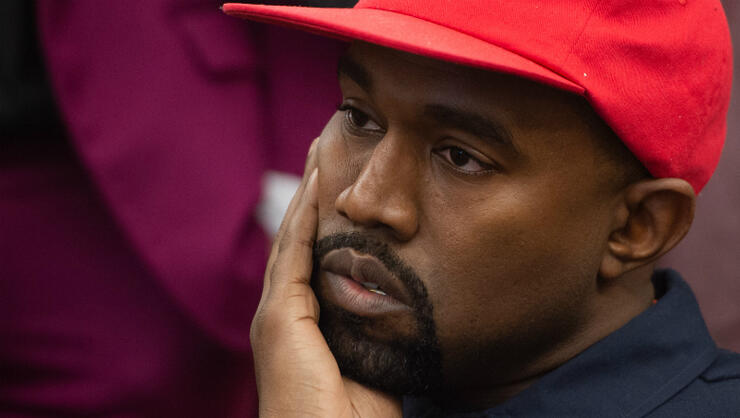 Kanye West has seen the light! (He's no longer "Bound 2" the conservative party, he's back to living that "Good Life," he's said goodbye to being a "Monster," he's... I'm out of puns)
After months of alarming and uncharacteristic behavior, the "Love It" rapper took to Twitter to clarify his "actual" beliefs, and acknowledge that he recognizes he's been used for political gain. "My eyes are now wide open and now realize I've been used to spread messages I don't believe in," he wrote. "I am distancing myself from politics and completely focusing on being creative !!!"
While Ye made no mention of his "hero" Donald Trump (the jury's still out on if 45 still makes Kanye feel like Superman), he did call out African American conservative Candace Owen, who spearheaded the "Blexit" campaign (which urges black Americans to leave the Democratic party), and previously claimed that Kanye helped create the Blexit logo. "I introduced Candace to the person who made the logo and they didn't want their name on it so she used mine," Ye explained. "I never wanted any association with Blexit. I have nothing to do with it." (To note, Candace issued a clarifying statement hours before Kanye's tweet sesh, saying her and Kanye have different political views and he did not design the Blexit t-shirts.)
Kanye then went on thank those who have supported his "ACTUAL beliefs" and "vision for a better world." However, Mr. West didn't end there. In a clear and concise manner (a far cry from his recent rants and lengthy monologues), the "Lift Yourself" rapper went on to explain what his actual values are (now) — and they surprisingly take from both sides of the political aisle. "I support those who risk their lives to serve and protect us and I support holding people who misuse their power accountable," he shared. "I believe in love and compassion for people seeking asylum and parents who are fighting to protect their children from violence and war." Adding, "I support creating jobs and opportunities for people who need them the most, I support prison reform, I support common-sense gun laws that will make our world safer." Talk about a complete 180!
RIP MAGA Kanye, welcome back, Mr. West!
My eyes are now wide open and now realize I've been used to spread messages I don't believe in. I am distancing myself from politics and completely focusing on being creative !!!

— ye (@kanyewest) October 30, 2018
I introduced Candace to the person who made the logo and they didn't want their name on it so she used mine. I never wanted any association with Blexit. I have nothing to do with it.

— ye (@kanyewest) October 30, 2018
I would like to thank my family, loved ones, and community for supporting my ACTUAL beliefs and my vision for a better world.

— ye (@kanyewest) October 30, 2018
I support those who risk their lives to serve and protect us and I support holding people who misuse their power accountable.

I believe in love and compassion for people seeking asylum and parents who are fighting to protect their children from violence and war.

— ye (@kanyewest) October 30, 2018
I support creating jobs and opportunities for people who need them the most, I support prison reform, I support common-sense gun laws that will make our world safer.

— ye (@kanyewest) October 30, 2018
Chat About Kanye Admits He's Been Used For Political Gain: 'My Eyes Are Now Wide Open'