Travis Scott, John Mayer, SZA & More Perform At Mac Miller Tribute Concert
By Lauren Crawford
November 1, 2018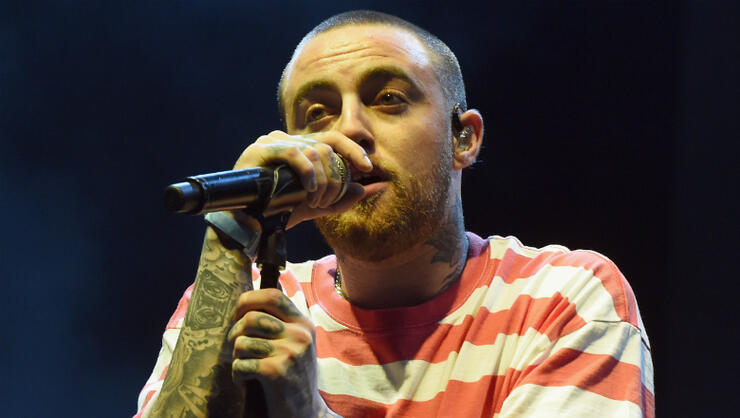 Mac Miller's life and legacy were honored on Wednesday (October 31) night for what was scheduled to be the late rapper's Halloween show at the Greek Theatre.
The Mac Miller: A Celebration of Life concert brought together Mac's closest friends, fellow artists, and family for a night of music, celebration and remembrance to raise funds for his posthumous youth arts and community-building program, The Mac Miller Circle Fund. The concert featured performances by Travis Scott, Ty Dolla $ign, John Mayer, Miguel, Chance the Rapper, SZA, ScHoolboy Q, Anderson .Paak, and more.
Several of the artists additionally paid tribute to Mac by saying a few words about the man many of them dedicated their careers to. "Mac, thank you for so many different things," Chance said after his set, choking up. "Thank you for the music you made; thank you for the music that you provided other people with, for the opportunities that you provided me with, but overall, for the friendships that you built through your music and through your artistry." SZA also addressed the crowd, saying, "Without Mac, there would be no me, like half of us [performing]... God bless you we love you so much. Mac."
Radio host Zane Lowe spoke on behalf of the Pittsburgh-born rapper's parents, Karen Meyers and Mark McCormick, asking the crowd to take a moment of silence for the victims of the Pittsburgh Synagogue Massacre. "Malcolm McCormick's family has requested, just as Malcolm would have, that we all take a brief moment of silence to acknowledge those affected by the tragic events in Pittsburgh last week, and to strongly condemn these violent acts that have no place in our communities," Zane said.
Mac's celebration of life additionally featured a number of video tributes that showed the 26-year-old rapper at various moments throughout his career as well as videos that featured shoutouts from artists like, Pusha T, Pharrell, Lil Wayne, Tyler the Creator, and A$AP Ferg.
When John Mayer took the stage, he performed Mac's song "Small Worlds" off of his fifth and final album, Swimming, and even kept Mac's vocals on the track.
Travis Scott closed out the night. Following his performance, the stage lights went off and a video clip of Mac performing on the piano was shown on the screen. Mac's words were the last to come over the speakers, as he's heard rapping "Best Day Ever" as photos of him appeared on the screen while his family and friends returned to the stage one final time.
Watch the full concert below:
Chat About Travis Scott, John Mayer, SZA & More Perform At Mac Miller Tribute Concert