Ariana Grande Drags Pete Davidson For Mocking Their Broken Engagement
By Paris Close
November 2, 2018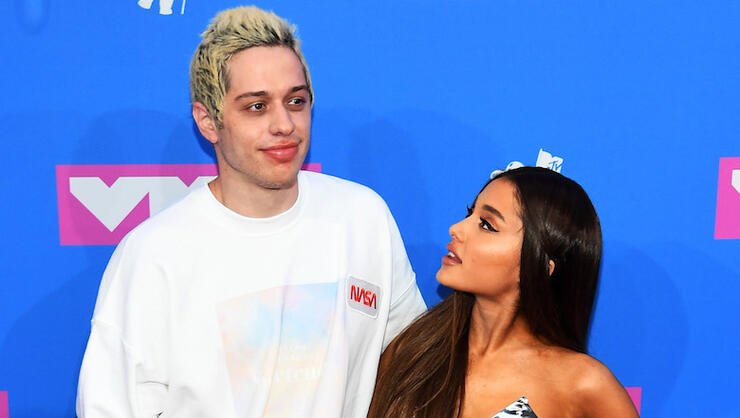 Pete Davidson cracked yet another joke about his breakup with Ariana Grande but the pop star isn't laughing. Last night (November 1) saw the release of a promotional video for an upcoming episode of Saturday Night Live, in which Davidson humorously pops the question to musical guest Maggie Rogers as host Jonah Hill stands uncomfortably between them.
"Hey Maggie, I'm Pete. You wanna get married?" the 24-year-old quips in the clip. The "Alaska" singer turns down Davidson's unexpected proposal, to which the comic replies, "0 for 3," clearly mocking his broken engagement with the "No Tears Left to Cry" star.
In a surprisingly subliminal turn of events, Ari caught wind of the clip and posted this shady tweet (which may or may not have been directed at her ex-fiancé): "For somebody who claims to hate relevancy u sure love clinging to it huh?"
OOOOH, BUUUUUUUURN!
For the record, Ari was totally taking a dig at Davidson's SNL antic, as evidenced in a screenshot of her retweeting the user who posted the clip on social media. "SNL is about to milk their breakup just like they did with the engagement," @knnewagb wrote, which the vocalist shared (then deleted) with no more than a period.
The rest of the Internet was just as shook as we were.
"[Pete] was clinging to Ari for relevancy. Still is tbh. All of his jokes will still be about the relationship for the next 10 to 20 years," tweeted one user who sided with Ari's sentiments. Another insinuated Pete was ungrateful for the lavish lifestyle that came with dating the superstar: "HE GOT KICKED OUT OF THAT $14 MILLION PENT HOUSE YOU BOUGHT IN YOUR OWN NAME (HE DIDN'T CONTRIBUTE A DOLLAR) AND LOST HIS MIND."
This isn't the first time Pete has used his breakup from the Sweetener musician as fodder. He also made a few puns about it at a recent comedy gig weeks afterward. Ari was too unbothered to respond then, but she DEFINITELY HAD TIME last night.
Needless to say, these two are probably never getting back together again.
Photo: Getty Images
Chat About Ariana Grande Drags Pete Davidson For Mocking Their Broken Engagement