Chris Slade Says AC/DC Sounded "Best I've Ever Heard" With Axl Rose
By Andrew Magnotta
November 6, 2018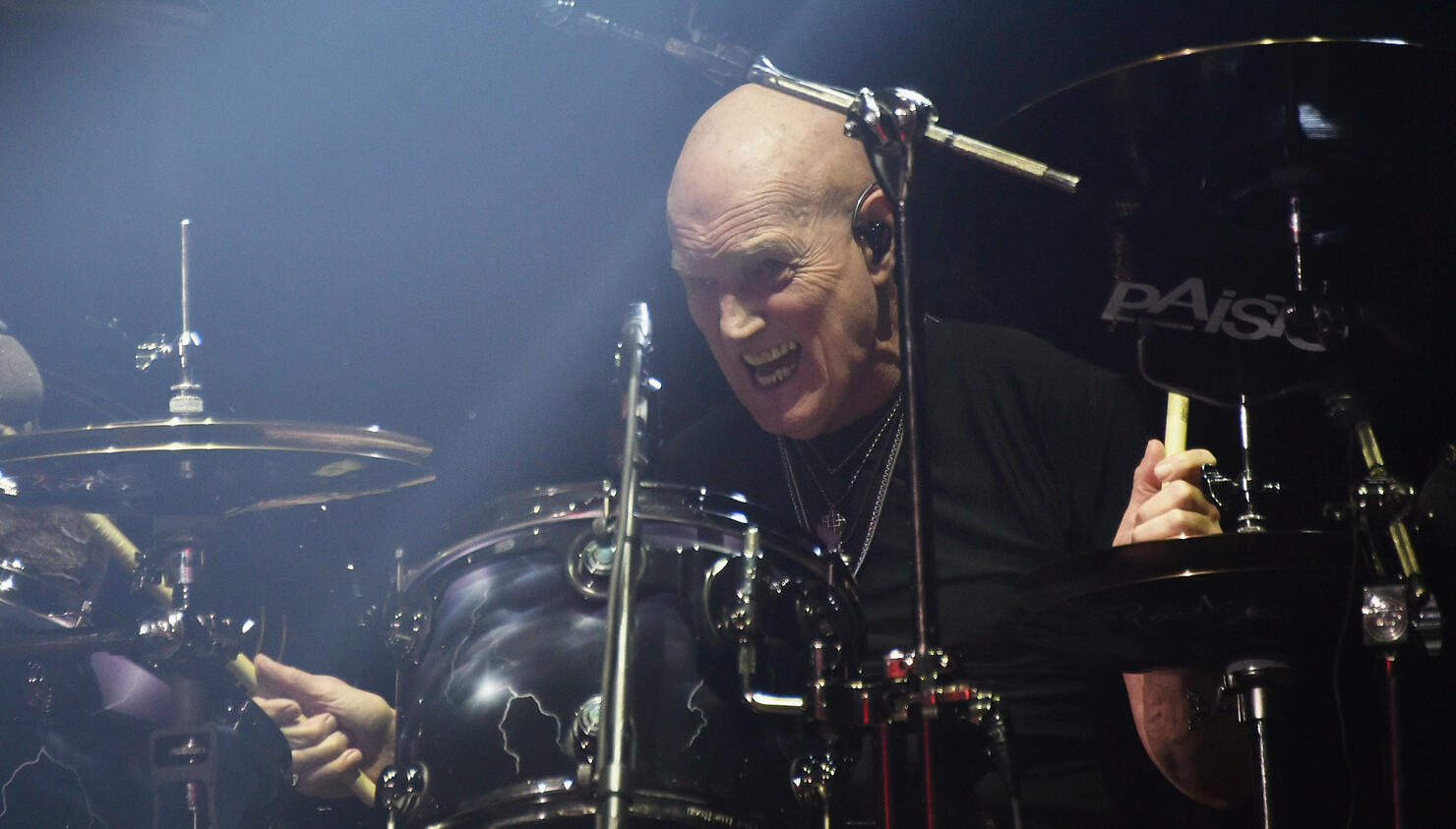 Two-time AC/DC drummer Chris Slade is again singing the praises of the band's 2016 fill-in front man Axl Rose.
Slade was tapped for AC/DC's Rock or Bust world tour after the band's longtime drummer Phil Rudd was prohibited from touring due to legal issues.
The tour was particularly challenging for that band as longtime AC/DC front man Brian Johnson was quickly forced to bow out for fear of a "total loss of hearing."
But Slade says that whatever adversity AC/DC faced disappeared when the band took the stage every night. He credits Rose with pushing the band — particularly guitarist and band leader Angus Young — into new territory.
"Angus was running around like a schoolboy, you know?" Rudd told Eonmusic. "It did reinvigorate the band. Brian is great, as we all know; he's a great personality and a great guy. Axl brought his voice to it. Like, I couldn't believe the notes he hit; it was staggering."
Rose's enthusiasm for the AC/DC gig reportedly rubbed off on the band, and encouraged Young to delve deeper into the band's back catalog for the set lists.
Before Rose's arrival, Slade says he and the band were in a dark place.
"And I actually had no hope at all," he said. "What I heard that Axl was going to be in the band, I thought, 'Oh, what?!' Because I'd only ever heard that Guns N' Roses voice, but all great singers, they can change the timbre of their voice, and wow, he hit notes that dogs can only hear. It was unbelievable! I thought he did an amazing job. I could hear him very clearly because I use in-ear monitors, and it's the best I've ever heard the band."
The reaction Slade described isn't far off from that of Rose's own Guns N' Roses band mate.
Slash told iHeartRadio's Jonathan Clarke in August that he was "in awe" of Rose pulling double-duty with the GNR reunion and filling in for AC/DC.
"When he took off to do AC/DC, I went to one of those shows and it was phenomenal," says the guitarist. "But one of the first things he said was he had a way of [singing AC/DC] where it wasn't taxing on his voice. I was in awe the whole time."
AC/DC has been tight-lipped about its plans going forward, though several members of the band, including Young, Rudd and Johnson, were seen together at a recording studio in Vancouver, BC, this summer.
Photo: Getty Images