Demi Lovato 'Has Done A Complete 180' Since She Overdosed, Says Source
By Paris Close
November 6, 2018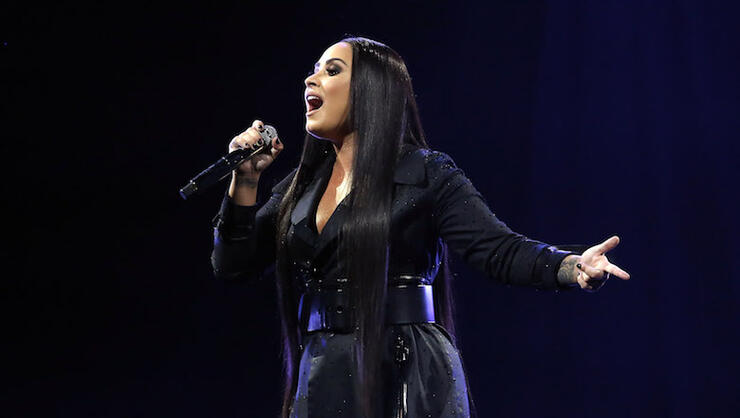 Things seem to be looking up for Demi Lovato following her time in rehab.
According to insiders, Lovato has been making use of everything she learned in treatment since she suffered an overdose in her Hollywood Hills home in July.
"Demi is happy and healthy has done a complete 180 since she overdosed. Her 90 days in rehab have truly turned her life around," the source told Entertainment Tonight exclusively Monday (November 5). "She wants to remain out of rehab. She has a sober coach and a complete support system."
The singer was pictured out on a dinner date with her friend, clothing designer Henry Levy, in Beverly Hills on Saturday (November 3). The sighting prompted reports that the "Sorry Not Sorry" star had finished her time in rehabilitation.
As we previously reported, Lovato celebrated 90 days of sobriety in late-October.
"Demi has struggled for so long with addiction and her friends and family couldn't be more proud of her work," the source continues, adding, "This process has been incredibly beneficial to Demi in so many ways. She is not only clean and sober but she has an entirely new lifestyle."
Since the frightening episode, the insider assures the 26-year-old has only been keeping herself in the company of those who want to the best for her health and well-being.
They added: "[She] has dedicated herself to her sober life and has surrounded herself with people in her program. She is avoiding those in her social circle that supported her precarious lifestyle. Demi deserves a partner who will help her continue to live a clean life and her family and friends feel she is choosing more appropriate friends."
Photo: Getty Images
Chat About Demi Lovato 'Has Done A Complete 180' Since She Overdosed, Says Source