Lil Xan Says He's Living In A Forest To Deal With Addiction Struggles
By Paris Close
November 6, 2018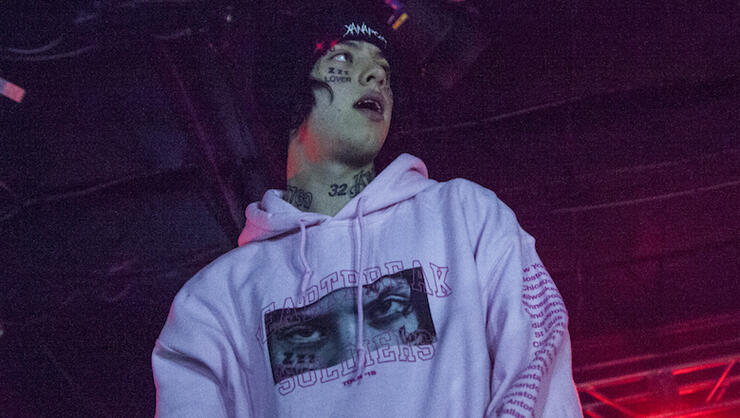 Lil Xan says he's taking a step back to work on achieving a life of sobriety.
Hours after TMZ broke Mac Miller's cause of death on Monday (November 5) — a fatal mix of fentanyl and cocaine — the "Live or Die" rapper reached out to the celebrity gossip outlet to reveal he's still struggling with ongoing issues of substance abuse and addiction as well.
The 22-year-old, who looked up to the late "Self Care" artist, told the tabloid he wasn't shocked to learn the opioid contributed to Miller's death but fentanyl had always terrified him.
Before his rise to fame, Xan says he used to deal pills but eventually stopped after he learned other dealers had been selling product laced with the lethal substance. "My friends were taking it, they were puking," he told TMZ over a video call. "I was like I can't ... I'm out the game."
The "Slingshot" artist also paid his respects his late friend, rapper Lil Peep, who died last year from an accidental overdose on fentanyl-Xanax. Xan says learning the death of his friend — and now the loss of his hero — inspired him to get clean.
Although Xan admits he's gone as long as six months sober, he's still working to kick his bad habit. "I relapsed, and that's common. Any other addict would understand that s**t just happens," he says. "I'm not completely clean yet."
Xan has canceled a number of concert dates to finish his tribute album, Be Safe, in Miller's honor. Just last night, he pulled out on his Tampa appearance due to "exhaustion." Despite his struggles, the Cali emcee has rehab. Instead, he's secluded himself "in the forest" while he recovers.
Photo: Getty Images
Chat About Lil Xan Says He's Living In A Forest To Deal With Addiction Struggles