Aerosmith's Tom Hamilton Has Sold Rights to His Music Publishing
By Andrew Magnotta
November 7, 2018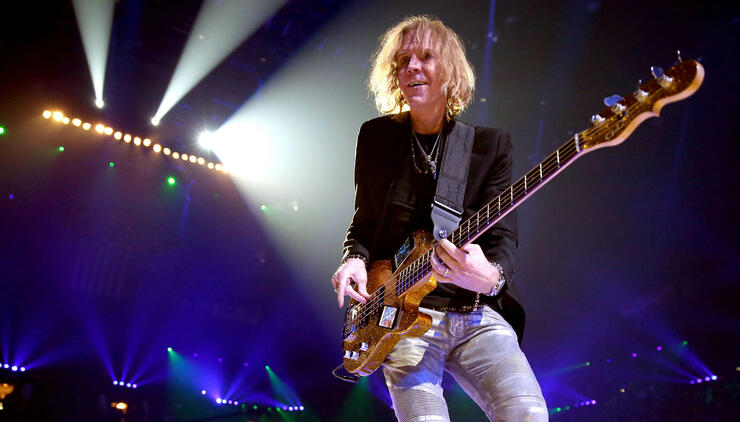 It's still not clear how much longer Aerosmith is planning on continuing following the band's 50th anniversary Las Vegas residency next spring, but it appears bassist Tom Hamilton is thinking about retirement.
Like many senior rock stars do, Hamilton has exchanged rights to his music publishing residuals for an undisclosed lump sum.
The bassist co-wrote some of Aerosmith's biggest hits, including "Walk This Way," "Dream On," "Sweet Emotion," "Janie's Got a Gun," "I Don't Want to Miss a Thing," "Dude" and others.
Under the terms of the agreement, Hamilton's publishing goes to the Primary Wave Music Publishing company.
"We are thrilled to begin the partnership with the legendary Tom Hamilton," said Primary Wave CMO Adam Lowenberg in a statement. "We couldn't be prouder and more excited to have him join the Primary Wave family."
While we may never know for sure how much the deal is worth, it's safe to say both parties are happy. Aerosmith has sold more than 150 million records worldwide in its Rock and Roll Hall of Fame career.
Former Twisted Sister front man Dee Snider revealed earlier this year that he, too, sold the publishing from his Twisted Sister catalog. He explained to Eddie Trunk that selling the rights benefitted him in a variety of ways, from reducing his tax burden to providing him a steady, reliable source of income.
"You can say [about] a song, 'Oh, I expect it to do good forever,'" Snider said. "But, you know, it may; it may not. You have up years, you have down years. If you take the money [from selling], you can invest it. And so now you've got an actual almost set income stream coming from your investment, and you're paying much less in taxes. So there's a reason to do it at a certain point in your career."
Photo: Getty Images
Chat About Aerosmith's Tom Hamilton Has Sold Rights to His Music Publishing