Dinah Jane Brings The Party In Colorful 'Bottled Up' Video
By James Dinh
November 7, 2018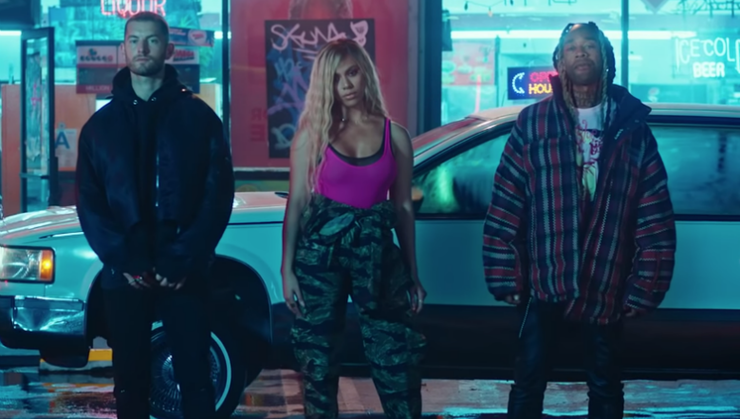 Dinah Jane has officially released her debut solo music video for "Bottled Up" and it sees the former Fifth Harmony bandmate recruiting featured guests Ty Dolla $ign and Marc E. Bassy as her counterparts for her neon-lit party.
In the video, which dropped on Wednesday afternoon (November 7), Jane brings viewers into an Instagram-worthy set, where the budding solo star and her friends dance up a sweat in the streets, hair salon and convenience store. Directed by Hannah Lux Davis, the clip is as straightforward as it gets. You have trendy looks, slick choreography and the 21-year-old star doing her best to make a solid solo pop star impression. "I'm a bad chick, I need a bad one with me/ Work from home, but he gon' stay up with me/ No sleep tonight, yeah, you know what I like," she sings during the chorus.
"This specific record, I just wanted to come out with people actually vibing," Jane recently told Entertainment Tonight of her brand-new single. "I just wanted to take it to a party scene. I felt it being a very relatable message just because I know so many people turn to substances to get their feelings out. It's not healthy to bottle up your feelings, but if this is what's helping you to get it out, then that's the best way to do it."
Asked if she had any interest in reteaming with her former bandmates to work on new music, Jane said anything is a possibility at this point. "I think it would be cool to do something together. I think it kind of depends on genre taste," she said. "I'm like, 'Feature me. I know you want me on your records, girls [laughs]!' I'm kidding. But it'd be kind of fun. Lauren and I talk about it all the time. We'll see what happens."
Photo: YouTube/Dinah Jane
Chat About Dinah Jane Brings The Party In Colorful 'Bottled Up' Video