Hayley Williams Shuts Down Hair Dye Brand 'Good Dye Young' Haters
By Katrina Nattress
November 9, 2018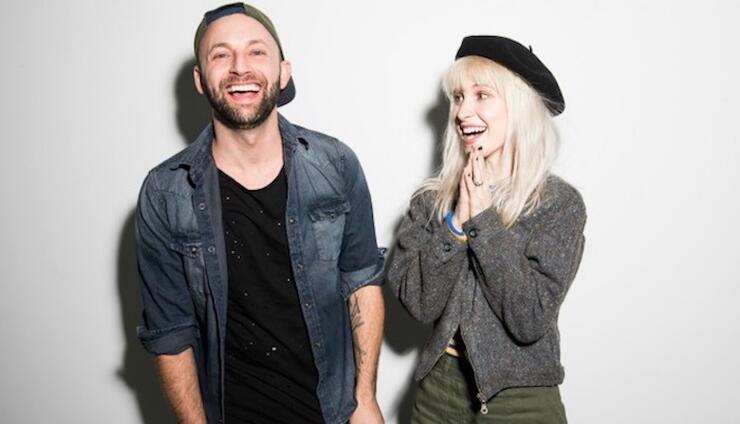 Hayley Williams and her hair stylist Brian O'Connor have been busy promoting their independent hair dye brand, Good Dye Young, and while most fans are supportive of the Paramore singer's latest endeavor, there will always be haters.
"a pic from summer #tour5. hair by @ColormeBrian using our company @gooddyeyoung's temp hair color styling product (or Hair Makeup, if you will) #PoserPaste. washed it right out after the show," the 29-year-old tweeted alongside a photo of her pink highlighted locks.
"can you just not talk about gdy? thanks," one trolling user responded, to which Williams did not take kindly.
"actually, i cant* not talk about it. im the lead investor... the face of it... plus, i actually love my company," she clapped back. "like, let's be real, it'd be preddy dumb if i didn't talk about it. can you just not be a dick? thanks. hey folks, if you like dying your hair check @gooddyeyoung."
Check out the dickish tweet, and her epic response, below.
Though Williams has sported all kinds of vibrant hair colors during her career, she's recently admitted her current hue — a simple blonde — is her favorite yet.
"Now that I've lived out After Laughter and what my hair has come to mean to me during this season of my life, I think I have to say that this has been my favorite," she told Evening Standard. "Because in spite of people's perceptions, in spite of what may be more sellable, we did what was right for where we were at as friends, and where I was at as a person."
Photo: Linsey Byrnes
Chat About Hayley Williams Shuts Down Hair Dye Brand 'Good Dye Young' Haters