Enormous Bottle Of Ranch Dressing Now Available
By Dave Basner
November 14, 2018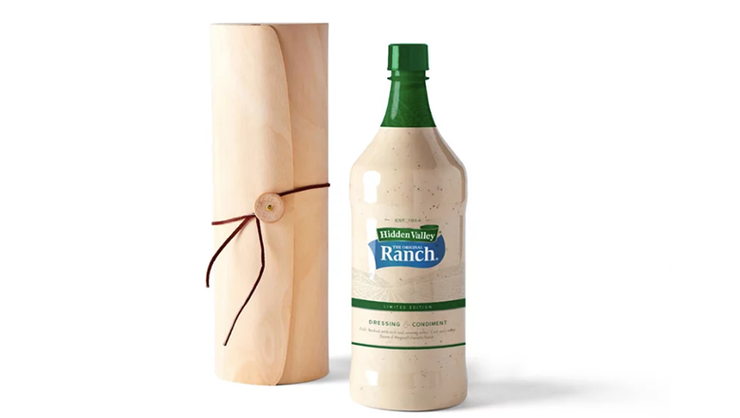 There are some people who will put ranch dressing on everything - spaghetti, pizza, cereal, pancakes - you name it and they will gladly add the creamy condiment to it. If you have someone like that in your life, Hidden Valley has a must-have item for them. The dressing maker is releasing an enormous bottle of ranch. While their normal-sized containers hold eight ounces, the new magnum bottle boasts a whopping 59 ounces.
The giant container costs $25 and will be available on December 3rd, just in time for the holidays. It even comes with a custom-designed gift box. You can also buy yourself Hidden Valley ranch Christmas tree ornaments, inflatable bottle lawn ornaments, ranch-inspired gift wrap or a blue and green ugly Christmas sweater.
It's not the company's first foray into novelty items. On National Ranch Day in May, they unveiled a $35,000 jewel-encrusted bottle of ranch, and during the holidays last year they offered a five-liter keg filled with ranch, which quickly sold out.
Get your ranch swag today, here.
Photo: Hidden Valley
Chat About Enormous Bottle Of Ranch Dressing Now Available