U2 Is "Going Away," Says Bono
By Andrew Magnotta
November 14, 2018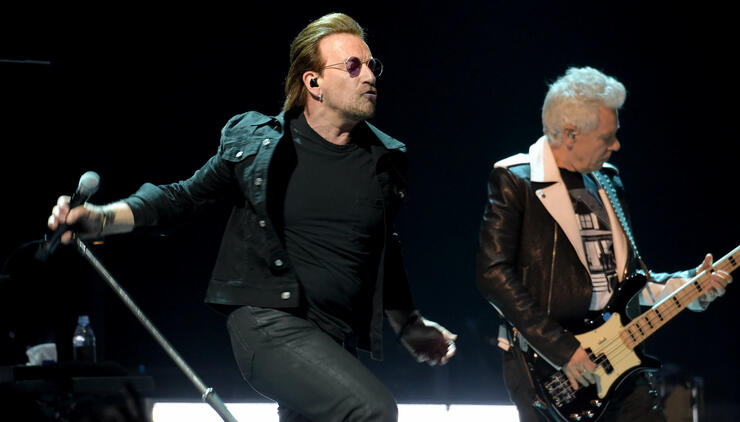 U2 fans are more than a little puzzled at a recent statement made by Bono during the band's Berlin show last night.
"We've been on the road for quite some time, just going on 40 years, and this last four years have been really something very special for us," said the front man, according to U2 fan site u2gigs.com. "We're going away now."
The concert was the final date on U2's itinerary, a makeup show for one U2 had to cut short because Bono lost his voice, and that final date of the band's Experience + Innocence tour.
The same fan site, u2gigs, pointed out that there has been a sense of finality to every U2 tour of the past 14 years.
It conceded, however, that this is the first time a breakup or lengthy hiatus as "at least seemed plausible."
The most recent post in the news section on U2.com is titled 'The ride of our life...' It details the significance of the city of Berlin in the band's history. The German city was where U2 recorded the majority of Atchung Baby, a gauntlet of an album that tested the relationships of the band members.
The post concludes: "'We came here not to find ourselves but to get lost... sometimes young men just need to get lost.' We all got lost tonight..."
U2 recently celebrated the 30th anniversary of its groundbreaking Joshua Tree album. Many fans are looking forward to the band celebrating more album anniversaries in the coming years.
But much has changed since U2 released the Songs of Innocence in 2014, the companion to 2017's Songs of Experience.
Most significantly, Bono has nearly died at least twice in the last three years. With an ambitious double-album project hanging over the band throughout both ordeals, it stands to reason that a hiatus at least may be in order.
There was the 2015 bike accident in New York City's Central Park, which landed the singer in surgery for five hours to repair multiple fractures to his face, left shoulder and left arm. It took the singer months to recover. He worried at the time that he might never be able to play guitar again.
More recently, Bono and his band mates referred to a separate health scare that nearly claimed his life and motivated them to redo a large part of Songs of Experience.
"It was pretty serious," he told Sunday Times in October. "I'm all right now, but I very nearly wasn't. I've had a lot of warnings. A fair few punches of the last years."
U2 Setlist - Berlin, November 14, 2018
The Blackout
Lights of Home
I Will Follow
Gloria
Beautiful Day
Dirty Day
Zoo Station
The Fly
Stay (Faraway, So Close!)
Who's Gonna Ride Your Wild Horses
Elevation
Vertigo
Even Better Than The Real Thing
Acrobat
You're the Best Thing About Me
Summer of Love
Pride (In The Name Of Love)
Get Out of Your Own Way
New Year's Day
City of Blinding Lights
Encore
One
Love Is Bigger Than Anything in Its Way
13 (There is a Light)
Photo: Getty Images
Chat About U2 Is "Going Away," Says Bono