Travis Scott Surprises Post Malone With The Best (And Tastiest) Gift Ever
By Peyton Blakemore
November 19, 2018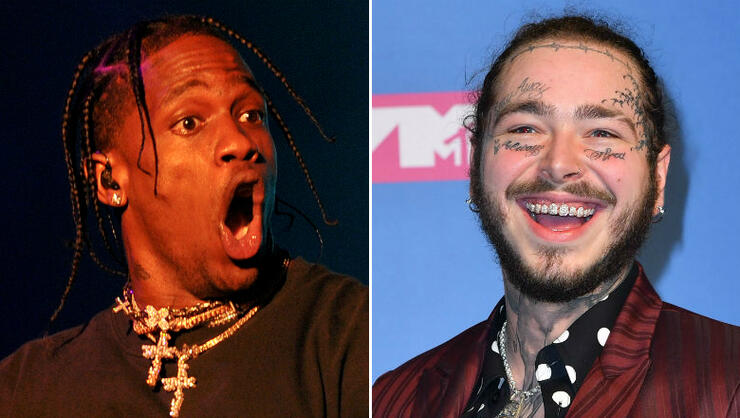 What are friends for if they don't order you incredibly large amounts of Chick-Fil-A?
It's just about common knowledge that Post Malone loves himself some Postmates. So, ahead of his Astroworld Festival performance on Saturday (November 17), Travis Scott surprised him with a Postmates delivery of his favorite Chic-Fil-A nuggets. And I'm not talking your average 8-count oh, no. I'm talking a boatload of nuggets.
Travis knew exactly what to get the "Congratulations" rapper since Post always requests the "largest nugget tray they have." And he actually did him one better by getting multiple trays of Post's fav nugs!
Check out Post's reaction below:
As fans know, Post is Postmates number one customer. And last month it was revealed that the "Ball For Me" rapper has somehow managed to drop over $40,000 this year alone using the OG delivery app, ordering nearly 3,000 total items, on more than 660 orders, in 52 different cities nationwide.
Many wondered how he did it, so Postmates revealed Post's order history and it became clear, pretty quickly after reading his receipts, that he spent $40K pretty easily. He dropped a whopping $8,000 on Popeyes biscuits (that's a total of 10,000 biscuits) for a Coachella party. He also used Postmates to supply one of his many ragers in 2018, ordering upwards of $1,000 worth of party supplies, which included red cups, Tito's Vodka, ice, drink garnishes and paper towels (you know, the essentials). And when Post wasn't blowing stacks on parties, he was dropping serious cash on random, but totally relatable, items like buffalo sauce — he spent $100 on the hot wings essential in one order alone.
As for the 23-year-old rapper's favorite places to order from, well, he likes to keep it pretty simple with the run-of-mill fast food joints, including: Chick-fil-A, KFC, Popeyes, Burger King, and Panda Express. But, he does mix it up from time to time, ordering from Petco, Game Stop, CVS, Pinkdot (it's actually the place he orders from the most), and Ralph's.
Photo: Getty Images
Chat About Travis Scott Surprises Post Malone With The Best (And Tastiest) Gift Ever