Tekashi 6ix9ine Will Be In Jail For Almost A Year Awaiting Trial
By Peyton Blakemore
November 26, 2018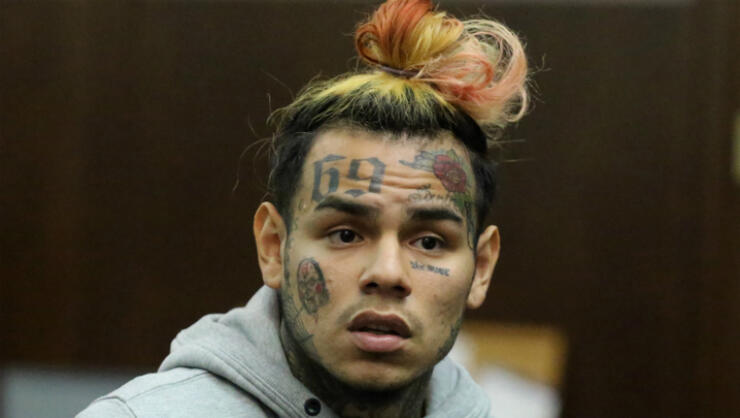 Tekashi 6ix9ine has a long road ahead of him.
After pleading not guilty to six federal charges in court on Monday (November 26), the "FEFE" rapper's trial was set for September 4, 2019, TMZ reports. 6ix9ine, who has been in jail since November 18, will seemingly have to wait behind bars for nearly a year as he was denied bail in his last court appearance. However, it is possible he could be released on bail before his September trial since the 22-year-old rapper's bail was not addressed in court on Monday, and his attorney, Lance Lazzaro, plans to apply for bail directly to the trial judge in the coming weeks.
As previously reported, Tekashi is being accused of committing a string of crimes with five of his alleged Nine Trey gang members, including "conspiracy with others to commit racketeering, discharging a firearm while committing a crime, committing a crime of violence in aid of racketeering, assault with a dangerous weapon, carrying a firearm, and committing a crime in aid of racketeering."
Despite the charges, his attorney told The Blast last week, Tekashi is not affiliated with any gang, even though he's repped his gang ties in the past. "Daniel Hernandez is completely innocent of all charges being brought against him," Lance told the site. He is "an entertainer who portrays a 'gangster image' to promote his music does not make him a member of an enterprise. Mr. Hernandez became victim of this enterprise and later took steps by firing employees and publicly denounced this enterprise through a morning show," he added, referencing Tekashi's "Breakfast Club" interview earlier this month, where he revealed he fired his entire team.
Tekashi is looking at 32 years to life in prison if convicted.
He is currently being held in an unnamed federal facility after reportedly being transferred (following his own request) from the "violent" Brooklyn detention center he was initially being housed.
Chat About Tekashi 6ix9ine Will Be In Jail For Almost A Year Awaiting Trial