Tekashi 6ix9ine Faces 32 Years To Life In Prison
By Paris Close
November 20, 2018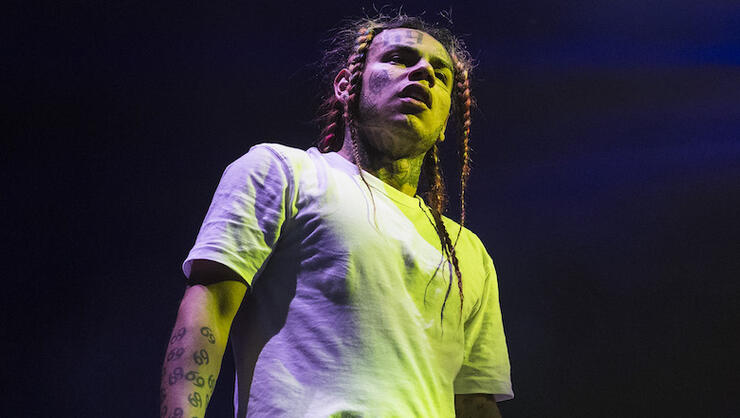 Tekashi 6ix9ine is facing a minimum of 32 years in prison following his arraignment in court Monday night (November 19), Rolling Stone reports. The rapper, who is still on probation over his freshly-closed child sex case, was detained along with four other men on alleged racketeering and firearm charges associated with the Nine Trey Bloods in New York City the night before.
During the arraignment, Tekashi's attorney urged the musician would pay over $1 million for bail, surrender his passport and be placed under house arrest as terms of the request. The judge denied bail, saying the rapper would still pose a threat to the community despite such terms.
The "FEFE" star's ex-manager and three other associates were hit with similar charges as Tekashi, including drug indictments. According to Rolling Stone, the 22-year-old faces a max of life in prison.
The artist is also being cited for an armed robbery that transpired in April, during which his crew reportedly robbed a rival gang member at gunpoint which investigators claim Tekashi recorded. That same month, the lyricist was charged for possessing an AR-15 and murder conspiracy for the latter of two shootings he was said to have been involved: one that unfolded at Barclays Center in Brooklyn, another Tekashi supposedly ordered on a bystander who disrespected Nine Trey.
The arraignment arrives a week after the "Gummo" artist fired entire team and canceled his U.S. tour following the arrest of his former friend, Anthony Jamel Ellison, in connection with Tekashi's robbery and kidnapping in July. "I fired everybody on my team," he stated in an Instagram video. "I got no manager, I got no booking agent, no PR, I don't got nobody on my team. It's just me."
In November, Tekashi spoke more about the situation in an interview on The Breakfast Club.
Chat About Tekashi 6ix9ine Faces 32 Years To Life In Prison