What Adam Levine Told Cardi B Before She Wrote Her 'Girls Like You' Verse
By Hayden Brooks
November 27, 2018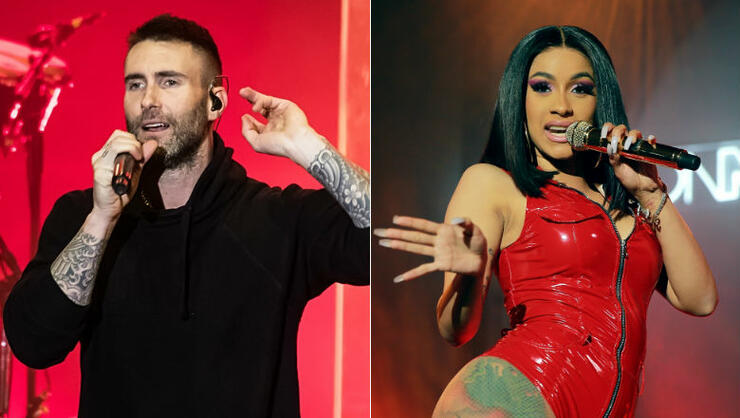 Adam Levine knew he was onto something when he was working on "Girls Like You," but adding Cardi B to the track took things to a whole new level. In his new cover story with Variety, which includes some more vague talk about his rumored Super Bowl LIII Halftime Show gig, the Maroon 5 frontman took a trip down memory lane to discuss the making of the smash hit and even admitted that he begged the female MC to extend her talents on the track.
"I told Cardi, 'I want you to put something down that shows your fierceness as a woman and say it however you want,'" he recalled when asked about giving the rapper guidance for her featured verse. "I knew she was going to murder this verse and bring the song to a whole new place. She was vital. I begged her to do it."
"Girls Like You" was an eleventh-hour addition to 2017's Red Pill Blues and a track that Levine said he felt quite passionate about. "I'm good under pressure," he admitted. "I wrote the bridge on an airplane in the middle of the night. 'Maybe it's 6:45/ Maybe I'm barely alive/ Maybe you've taken my sh*t for the last time.' I was, like, 'Huh, interesting considering the times.' I saw these words gain new meaning after the fact."
"Look what just happened: We had a historic [midterm] election with how many women turned out and ran. Like, hell, we can actually do this!" he continued. "That's why the iconography of the video is really important — for all of us to remember as men to support these women. Let's be pillars of strength and support and not approach it from a defensive standpoint, or one that would suggest I know anything about how a woman would feel. Remain reverent to what is happening and not claim to know. Just be a set of ears."
Chat About What Adam Levine Told Cardi B Before She Wrote Her 'Girls Like You' Verse