Kevin Hart Defends Son's 'Cowboys & Indians' Themed Birthday Party
By Peyton Blakemore
November 28, 2018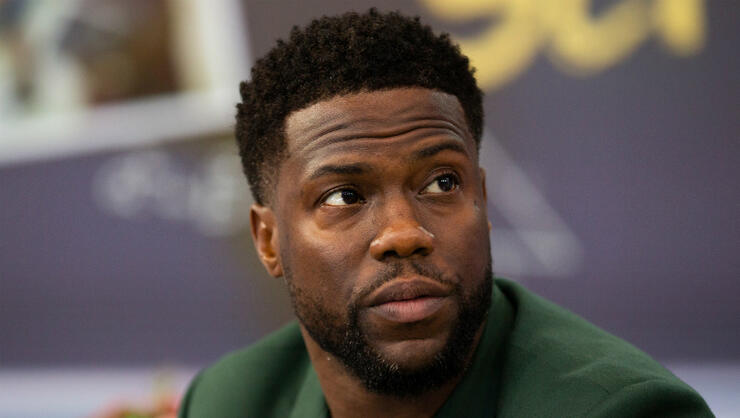 Kevin Hart basically said he couldn't care less about the backlash surrounding the theme of his son's first birthday party.
The Internet was divided after the comedian's wife Eniko shared photos of their son Kenzo's "cowboys and Indians" themed birthday party last week. Man of her followers slammed her and Kevin for what they deemed a "culturally insensitive" party theme, which featured guests wearing Native American blankets whilst surrounded by traditional Native American accessories and decor including teepees.
"[Eniko] posts this picture [from the party], and the next day there's a lot of flak. You know, I don't go on this sh*t; I don't read none of that, so she tells me [about it]," Kevin explained on a radio show about how he first got wind of the party theme's backlash. "She's like, 'Yo, come look at this dumb sh*t on TMZ. People are complaining about the cowboys and Indians party, saying it's insensitive."
After pointing out that the NFL's Dallas Cowboys' and Washington Redskins' Thanksgiving football game aired on the same day as the party, which he viewed as his critique's hypocrisy, Kevin then discussed how he believes people are looking too deeply at party theme for a one-year-old. (To note, many people have issues with the Redskin's team name. There have actually been petitions for years to change because many feel it is a racial slur.)
"The reason why I'm even bringing this dumb sh*t up is because it shows just how stupid our world is becoming with opinion," he continued. "People are at a point of an all-time high. To throw racial judgment into the development of a one-year-old's birthday party where the theme is cowboys and Indians? It's based around the outfits that are given to these young kids!"
"As a kid, do we play cops and robbers? As a kid, did you play cowboys and Indians? When you were a child, if you go to stores, you go to look at paraphernalia. To be a cowboy, you're buying boots, you're buying a gun, you're buying a hat. Some even had a lasso," he said before the radio host noted that many drew more of an issue with the "Indians" aspect of the theme. However, the host's point only caused the Night School actor to double down on his previous defense.
"As a kid, when you played these games, it was based off of the premise from a hypothetical place that was put into perception for movies," Kevin further explained. "What I'm saying is this isn't something that just started. This isn't a racial slur that people are doing or being malicious with. This is a game that's been played for years."
Photo: Getty Images
Chat About Kevin Hart Defends Son's 'Cowboys & Indians' Themed Birthday Party