The Palace Denies Feud Between Kate Middleton And Meghan Markle
By Emily Lee
December 2, 2018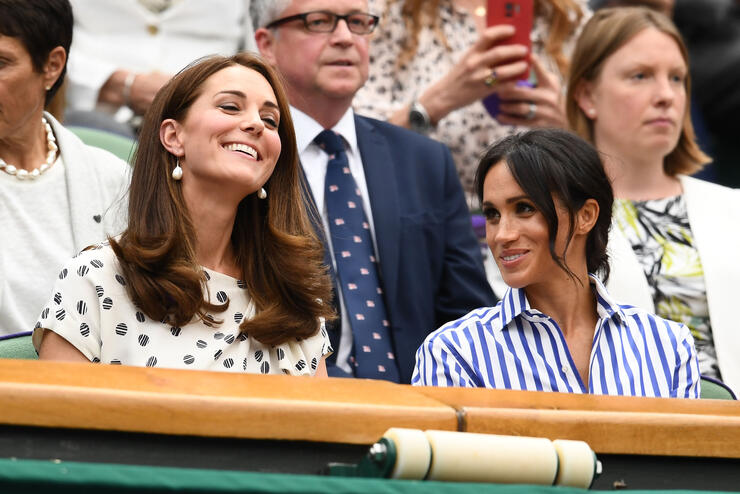 Ever since the news that Prince Harry and Meghan Markle would be moving out of Kensington Palace in the near future, stories of a feud between Meghan and her sister-in-law Kate Middleton have been making the rounds online. The Palace was forced to release a statement about the rumors after The Sun reported the two Duchesses had a serious row before Meghan's wedding in May.
According to The Sun, Kate and Meghan clashed after the Duchess of Sussex "b****ed out Kate's staff" at Kensington Palace. A royal source told the magazine that Kate set Meghan straight, telling her "That's unacceptable, they're my staff and I speak to them." The two reportedly had a falling out over the incident. There were other rumors alleging Meghan made Kate cry after a stressful fitting for Princess Charlotte's bridesmaids dress, as well.
"It's a tricky situation but it was a one-off and they are determined to maintain a positive relationship even though they are obviously very different in their approach," the source continued.
These claims appear to be the last straw for the royal family as they released a statement denying the stories, saying "this never happened."
Kate also shut down speculation about the feud herself when she gushed about Meghan's pregnancy during a recent visit to Leicester City with Prince William. She told a royal fan that she's "absolutely" excited for her sister-in-law. "It's such a special time to have little kiddies. And a cousin for George and Charlotte, as well, and Louis. It'll be really special."
So, there you have it. Everything is fine between these royal sisters-in-law.
Photo: Getty
Chat About The Palace Denies Feud Between Kate Middleton And Meghan Markle