Bastille Teases New Mixtape Through Cryptic Phone Line Service
By Katrina Nattress
December 3, 2018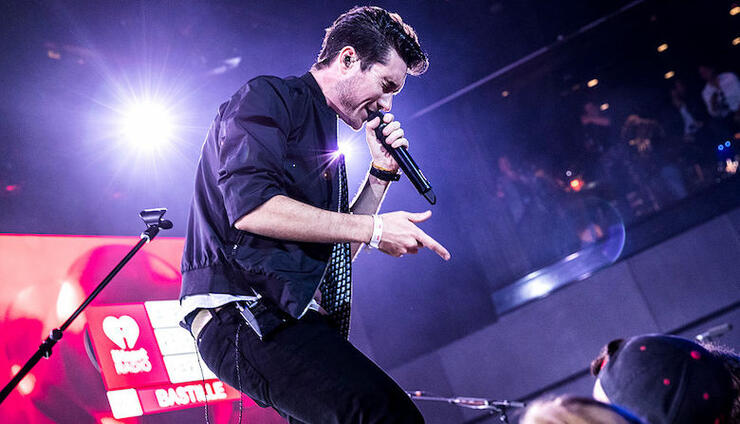 Over the weekend, Bastille stirred fans into a frenzy when the band teased part four of its Other People's Heartache mixtape.
The indie poppers shared three separate videos on their Instagram feed on Sunday (December 2). One featured a United States phone number, one featured a United Kingdom phone number, and one featured a digitalized heart with "Bastille" written inside it, teasing both numbers. Each short clip was soundtracked with a man declaring "free your body and your mind" to gritty electronic music.
Fans who call the phone numbers receive a previously recorded response from singer Dan Smith, who announces "Up next on other people's heartache." A voice sample then says "Just get high repeatedly, don't wanna come down" before the listener is instructed to "now just wait a minute." Instrumental music then plays before the caller is disconnected.
Meanwhile, the website otherpeoplesheartache.com features the words: "COS THE DEVIL'S GOT MY ARMS, AND IT PULLS ME BACK INTO THE NIGHT" scrolling at the bottom of the page.
Though we have no idea when to expect the fourth installment of the band's Other People's Heartache mixtape, we know it's coming. And that's something to get excited about. It's been four years since Bastille released the mixtape's third part, and nearly seven years since the mixtape first launched.
Check out the cryptic Instagram posts below.
Aside from the mixtape, Bastille is also working on a third studio album. Smith chatted with iHeartRadio about the new project, and what fans can expect. Read the full interview here.
Photo: Getty Images
Chat About Bastille Teases New Mixtape Through Cryptic Phone Line Service