Geddy Lee Will Plot Return to Music After Book Tour
By Andrew Magnotta
December 4, 2018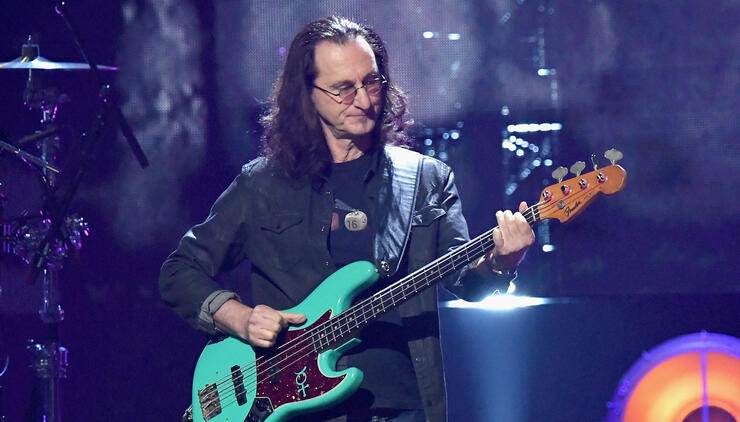 Rush front man Geddy Lee will return to music as early as next year.
The legendary bassist told Prog magazine in a recent interview that he's never stopped playing music at home.
"I go down to my studio, which I do, and I play these bass guitars because I have quite a few of them and they're fun to play," Lee said, according to Rush fan site Cygnus-X1.
And as long as Lee is playing a bass, he's writing music.
"I like to keep my fingers in shape," he continued. "When I play, ideas come out, so I record them and then I forget about them. When I got back to them, I'm sure half of them will be shit and I'll erase them. But I fully intend to go down one day and see what I've gathered down there. Once I've finished promoting this book, I do hope to become a musician again! But I have no idea what form that will take. I have no plans and I don't know where I'm headed."
Lee recently became an author, releasing his book, Geddy Lee's Big Beautiful Book of Bass, on Dec. 4.
The 408-page book explores the history of the bass guitar with photos of many pieces in Lee's personal collection, stories of rare instruments Lee has tracked down, plus anecdotes and interviews with some of the world's greatest bassists.
Contributors to the book include Led Zeppelin's John Paul Jones, The Rolling Stones' Bill Wyman, Metallica's Robert Trujillo, U2's Adam Clayton, Primus' Les Claypool and former-Ozzy Osbourne bassist Bob Daisley.
Rush guitarist Alex Lifeson wrote the foreword.
For more information or to order the book, go here.
While Lee may still be searching for what do to next with his basses, Lifeson is apparently moving ahead with a project that features virtuoso drummer Marco Minnemann.
Photo: Getty Images
Chat About Geddy Lee Will Plot Return to Music After Book Tour