Garth Brooks Recalls Central Park, Texas Stadium Shows & Opry Induction
By Nicole Mastrogiannis
December 5, 2018
There is no denying that Garth Brooks is a country music icon. Being one of the best-selling artists of all time, the superstar has accomplished so much over his incredible career, and has performed at hundreds upon hundreds of shows.
In 2019, Brooks will be heading out on a massive stadium tour and announced his upcoming 2019 Stadium Tour plans during a press conference. And to celebrate his new upcoming trek, the country legend released his The Anthology Part III: Live, which features various live recordings from throughout his incredible career and an eye-opening book showcasing remarkable photos and stories from throughout his many live shows.
Garth recently told iHeartRadio of the release, "The Anthology covers everything live, from the very first time ever to pick up a guitar in college, all the way to now. So, I enjoy this, and if you want to know anything about Garth Live, here's front to back right here."
To further celebrate, Brooks went into detail about a few of the memories from his Anthology III book, and shared the stories behind just a few of its significant photos. Read on below.
Performing for A Massive Crowd of Fans in Central Park
"Central Park. We're walking out, it's a live HBO special. I hear somebody backstage saying, 'We're going live in three minutes.' I'm walking with the guy from the park. And he puts a piece of paper in my hand. I said, 'What's that?' He goes, 'This is the number 90 minutes ago.' I open it up. I said, 'Are you telling me there's 850,000 people out there?' He goes, 'No. I'm telling you, 90 minutes ago there was 850,000 people out there.' So, all of a sudden, it starts to get to me, and you can see, now, I'm really white anyway, but this face is as white as white gets. So now I'm scared to death. [Brad] Wathne is underneath there with me; he's the stage guy, he's been there forever. Wathne says, 'You okay boss?' I said, 'Why?' He goes, 'You're whiter than usual.' So I was scared to death, because I wanted the first time the cameras to see me was the first time I saw them, the people. And I should have peaked, because this is the next shot you get coming out. This is the first song, coming out of this thing. And there were ... my hometown's 17,000 people. There were 17,000 people in this cluster right here. It was crazy. It's just moments like that."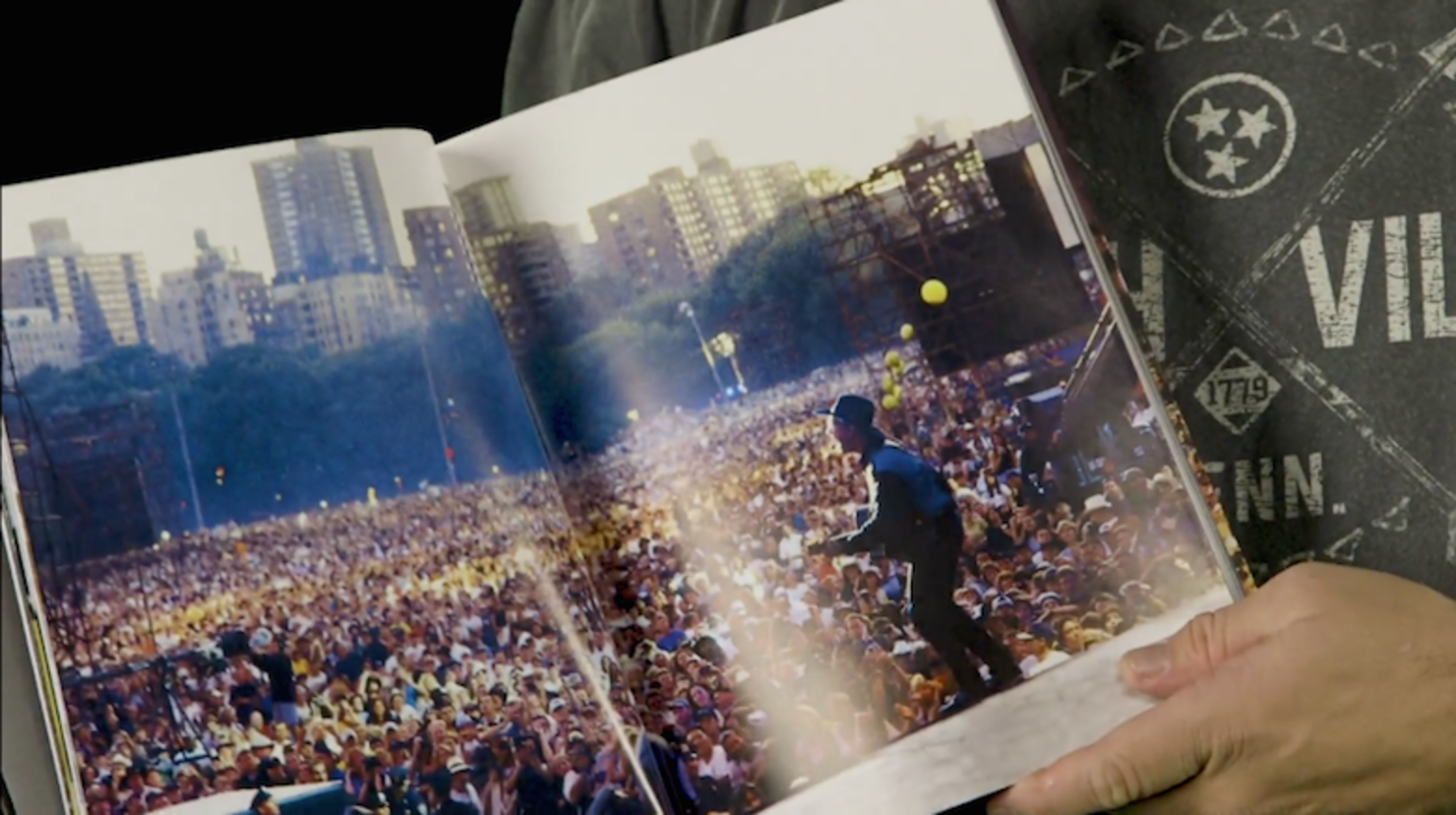 "One more thing on Central Park. What I love about these anthologies is to really get the picture of what this thing felt like, they've got these cool little foldouts that shows you these right here, against the New York skyline. It just really kind of puts all into perspective, because when you try to figure out, 'Holy cow, what does a million people look like in one place?' Ah, there it is."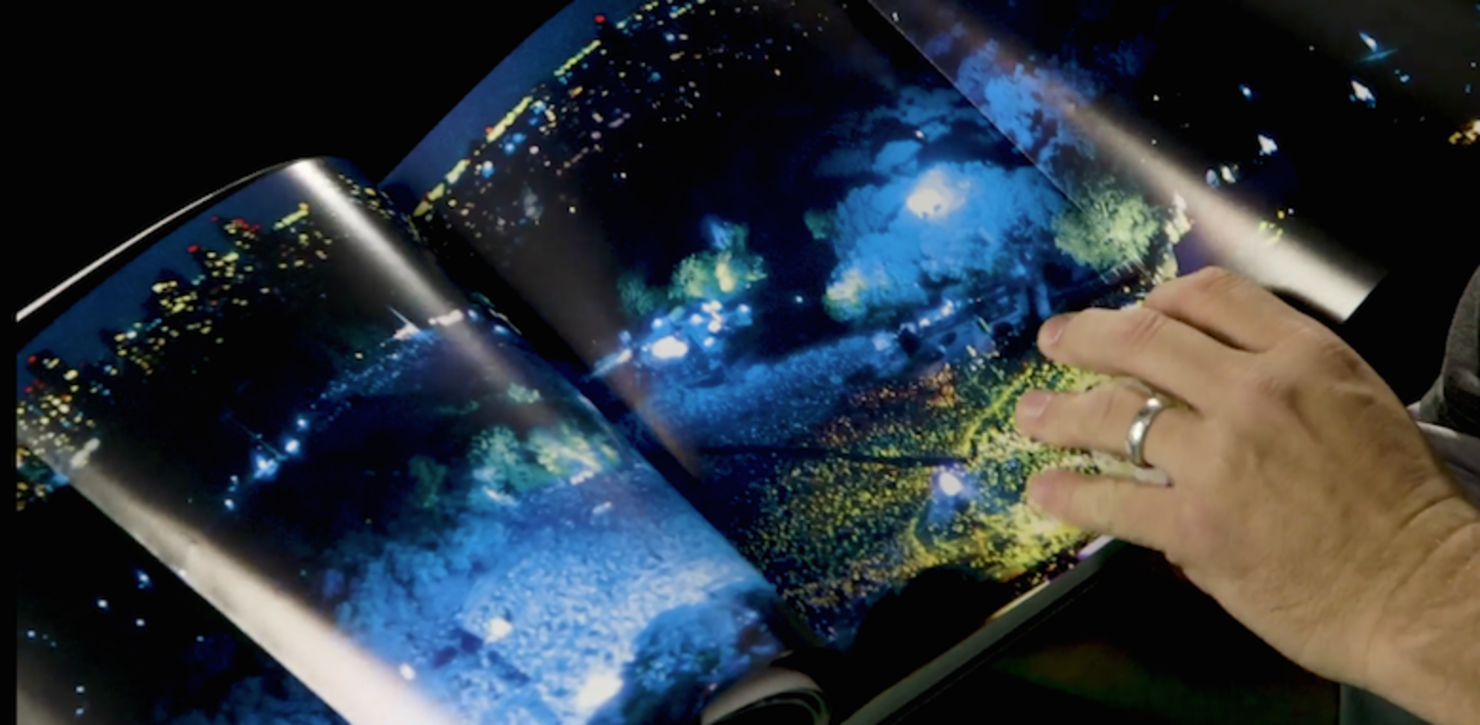 Being Inducted into the Grande Ole Opry
"So, the greatest thing they ever give you in country music is to become a member of the Grand Ole Opry, and this was one of the nights that we got to play there. Pretty cool. It's on a point system that, as long as you keep up points, you get to retain your family membership. For us, everything hit so hard and so fast, we were just gone. And so we didn't keep our points up, but they allowed us to be a member for life, which is sweet. Still, when people go, 'What is the greatest thing that's ever happened to you in country music?' Other than going to the Hall of Fame, because that night was pretty cool, I got to say, being a member of the Grand Ole Opry was everything, and continues to be everything for me."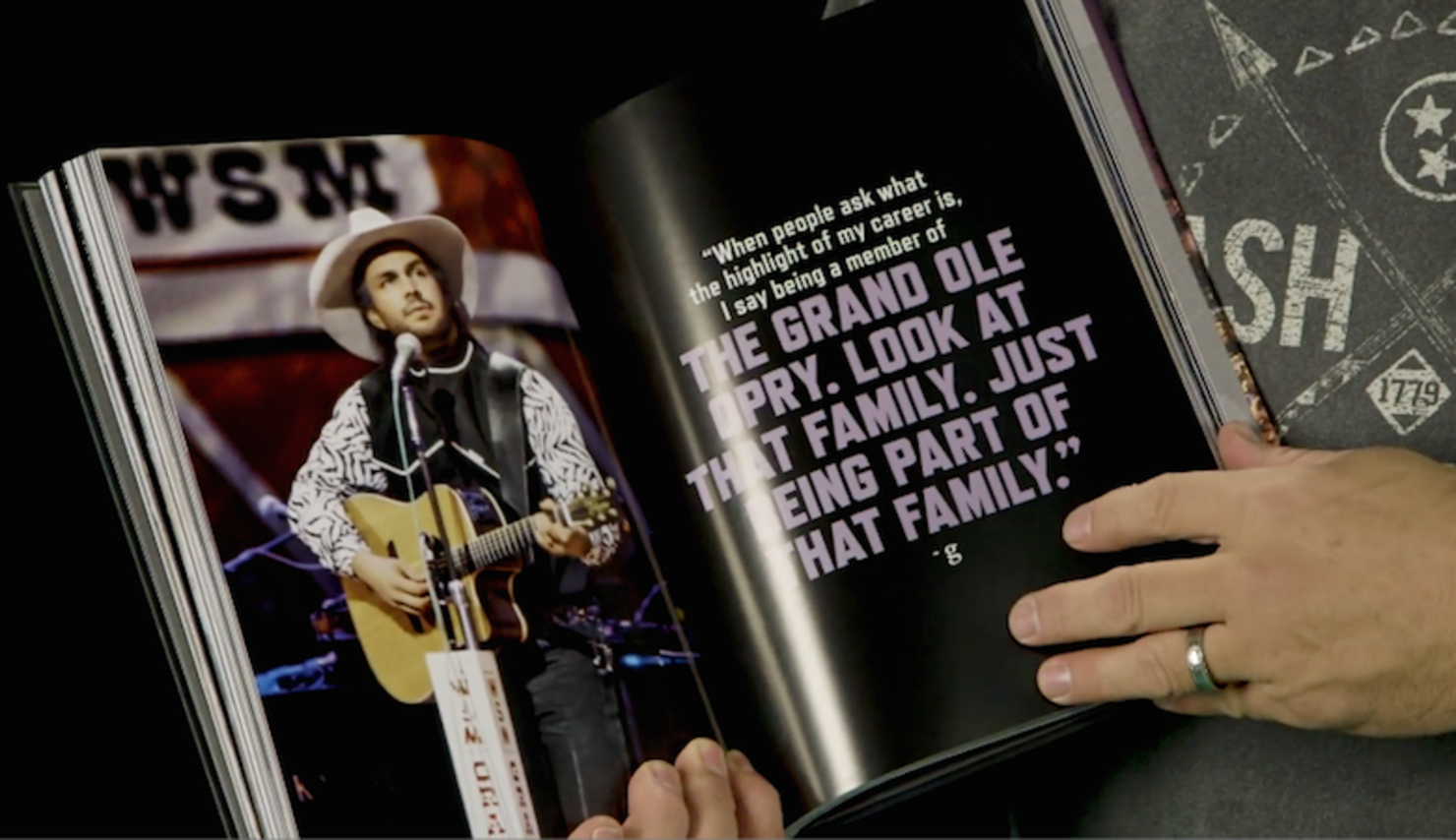 Performing During the 1993 Concert at Texas Stadium with Fire & Rain Special Effects
"This was a cool place. This is the old Texas Stadium [and] Jerry Jones and what people don't know about Texas Stadium, which they might not know, is if you've watched the Dallas Cowboys in the last, probably two decades of the Dallas Cowboys before they moved into AT&T Stadium, they had these two bars that separated everything. These are called the Garth Bars that they put in especially for this show. Because this show, we were going to do everything from ... Well, you'll see. I'm going to do everything from fire, to rain. We're going to fly. So the rain gets to do its thing, the fire gets to play, and it was pretty cool. It was probably the most literal concert we've ever done. So when you do 'Standing Outside the Fire,' here comes the fire. 'Thunder Rolls,' here comes the rain. And 'Ain't Goin' Down 'Til the Sun Comes Up,' the Foy Flyers out of Vegas who fly all the theatrical Peter Pans, pick you up from stage, and a hundred yards of just flying across the stadium to the very back row, which was pretty cool. And, for all of music at that time, I'm gonna say, especially country music, it's something that they hadn't seen before."