Kevin Hart Out As Oscars Host After Old Tweets Resurface
By Dave Basner
December 7, 2018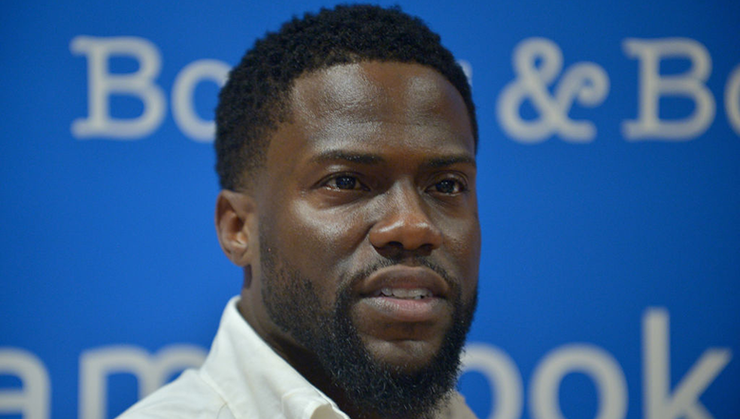 This week, Kevin Hart excitedly announced on Instagram that he would be hosting this year's Academy Awards. The comedian was clearly filled with joy, calling it "the opportunity of a lifetime," however, he has just dropped out of the role. The decision came just two hours after Hart declared he would not apologize for homophobic tweets and comments he made in his past. The 39-year-old broke the news on Twitter, along with an apology. He wrote,
I have made the choice to step down from hosting this year's Oscar's….this is because I do not want to be a distraction on a night that should be celebrated by so many amazing talented artists. I sincerely apologize to the LGBTQ community for my insensitive words from my past. I'm sorry that I hurt people.. I am evolving and want to continue to do so. My goal is to bring people together not tear us apart. Much love & appreciation to the Academy. I hope we can meet again."
Earlier on Thursday, Kevin posted a video to Instagram that he captioned "I know who I am and so do the people closest to me." In it, he explained how the Academy called him and told him he needed to apologize for the tweets or he wouldn't be able to host the awards show. Kevin stated, "I chose to pass, I passed on the apology." He said in the clip,
"The reason why I passed is because I've addressed this several times. This is not the first time this has come up. I've addressed it. I've spoken on it. I've said where the rights and wrongs were. I've said who I am now versus who I was then. I've done it. I've done it. "I'm not going to continue to go back and tap into the days of old, when I've moved on and I'm in a completely different space in my life. The same energy that went into finding those old tweets could be the same energy put into finding the responses to the questions that have been asked years after years. We're feeding the internet trolls and we reward them. I'm not going to do it, man. I'm going to be me and stand my ground."
Kevin allegedly attempted to delete some of the tweets, but the Internet is forever and screenshots of them remained: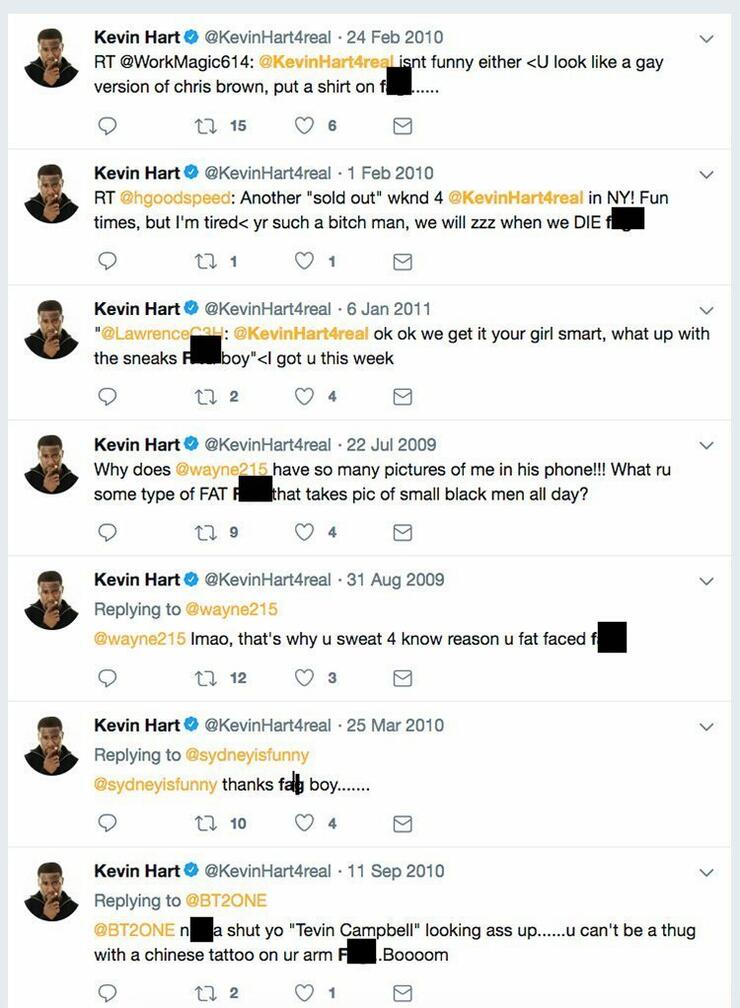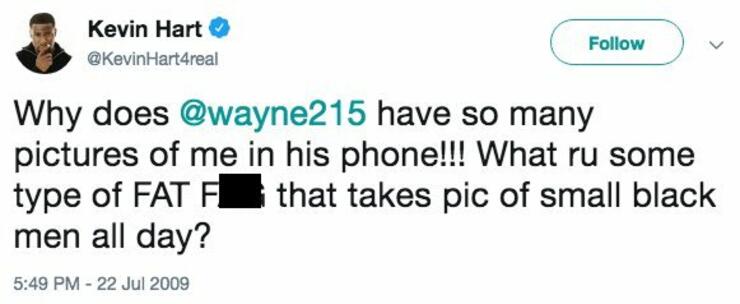 Kevin continued to comment on everything in a new video on Instagram, saying,
"I swear man our world is becoming beyond crazy. I'm not going to let the craziness frustrate me or anger me especially when I worked hard to get to the mental space that I am at now. My team calls me, 'Oh my God, Kevin, the world is upset about tweets you did years ago.' Oh my God. Guys, I'm almost 40 years old. If you don't believe that people grow, change, evolve as they get older, I don't know what to tell you. If you want to hold people in a position where they always have to justify or explain their past — then do you. I'm the wrong guy, man. I'm in a great place, a great mature place where all I do is spread positivity. If you're not doing that, you're not on my page."
The Academy has not yet commented on Hart's decision.
Photo: Getty Images
Chat About Kevin Hart Out As Oscars Host After Old Tweets Resurface