Cardi B Speaks On Offset Split For The First Time, Says She Has No Regrets
By Peyton Blakemore
December 10, 2018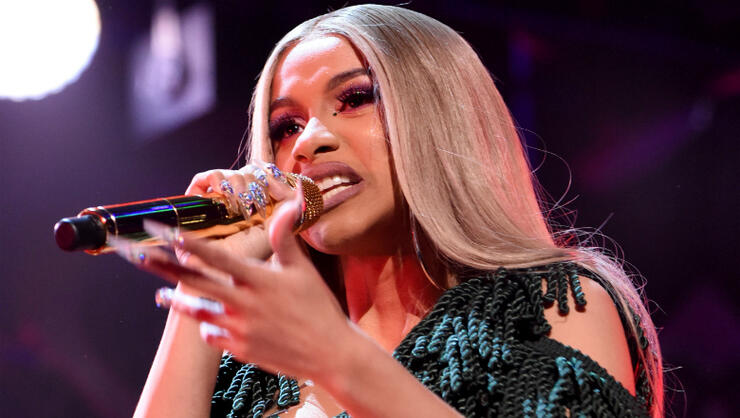 Cardi B wants the world to know that her divorce is no publicity stunt.
Following the "Bodak Yellow" rapper's split announcement last week, haters began trolling Cardi and Offset's relationship, claiming their break-up was nothing more than a publicity stunt. However, Cardi took to Instagram Stories on Sunday (December 9) to set the record straight.
"I've been seeing a lot of people saying my relationship is fake," she began. "There's certain things called love. People do fall in love. My relationship was never fake. I met this ni**a. He was on my a**. I gave him a chance. We fell in love with each other. Things was not always gravy cause we are two different people, but we never did anything for fu**king publicity," Cardi insisted. "You think I got f**king pregnant — could have ruined my career— for fu**king publicity." She added, "I wouldn't put my family in a bad name for no f**king publicity. Cause at the end of the day, 10 years from now, my daughter she gonna be looking at these types of things and she's going to be asking about these type of things... y'all gotta understand, there's a kid involved so there's no type of publicity that I would ever want that would have my daughter looking at me crazy when she gets older..."
Cardi also addressed people's comments about her moving too fast in her relationship with Offset as the two got engaged and married within a year of dating. "A lot of people saying I moved too fast. Maybe I did maybe I didn't. I don't know. Sh*t happens," she admitted. "People fall in love, people get married. People have kids, I don't regret anything because at the end of the day I have my daughter [and] she's beautiful, gorgeous, funny, I love her... I learned a lot. didn't really know much from the music industry and my husband helped me. He made me wiser. He let me open my eyes to a lot of things. And even though we're not together anymore, I learned a lot. I matured more as a woman... It is is what it is."
As for how she's doing these days? Well, the "Be Careful" rapper admitted that her split from Offset is "an unfortunate situation," but one she's handling it to the best of her ability. "I just be talking to God every single day," she said. "This is a very weird situation for me because I have a baby with this man... I have my heart in my sleeve right now... I think I'm handling it pretty well. I'm doing pretty good."
Hours prior, the "Money" rapper switched up the lyrics to her and her soon-to-be ex-husband's song "Motorsport." For her Saturday (December 8) night concert in Chicago, she rapped, "I get up set off. I turn Offset on. I told him the other day, yeah, we gon' get a divorce!" For those who don't know, the original line is: "I get up set off. I turn Offset on. I told him the other day. Man, we should sell that porn."
Following her lyric switch up, Offset took to Twitter to express that he missed his wife."F**k y'all," he wrote. "I Miss Cardi."
As previously reported, after Cardi announced their break-up, Offset was accused of cheating on her with multiple women during their marriage. One alleged side-chick, Summer Bunni, even issued a public apology for having an affair with the Migos rapper. In a video interview with TMZ, Summer cried about feeling responsible for Cardi and Offset's break-up, saying she didn't intend to be a homewrecker.
Photo: Getty Images
Chat About Cardi B Speaks On Offset Split For The First Time, Says She Has No Regrets