President Trump Says He "Never Directed" Cohen To Break The Law
By Bill Galluccio
December 13, 2018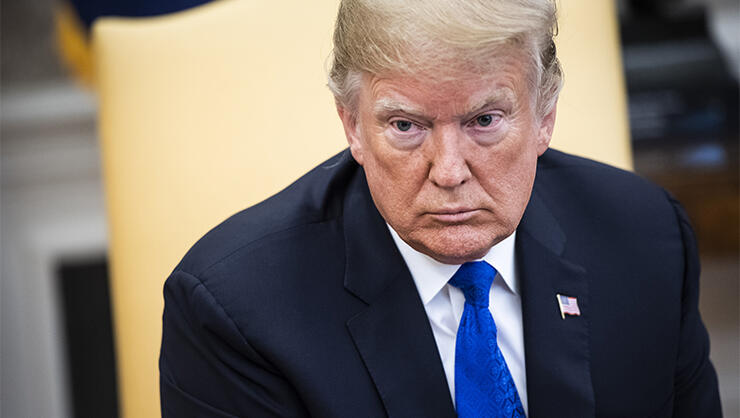 President Donald Trump is denying that he did anything wrong in regards to hush money payments made to two porn stars during the 2016 presidential campaign. In his first comments since his former lawyer, Michael Cohen, was sentenced to three years in jail for campaign finance violations and tax and bank fraud, Trump said that he "never directed Michael Cohen to break the law," in a series of tweets.
He said that Cohen "is supposed to know the law" and that he "has great liability if a mistake is made."
Trump then went on to claim that he "did nothing wrong with respect to campaign finance laws, if they even apply" to the payments. He accused his former lawyer of pleading guilty to breaking campaign finance laws in order to "get a much reduced prison sentence" for committing bank and tax fraud.
I never directed Michael Cohen to break the law. He was a lawyer and he is supposed to know the law. It is called "advice of counsel," and a lawyer has great liability if a mistake is made. That is why they get paid. Despite that many campaign finance lawyers have strongly......

— Donald J. Trump (@realDonaldTrump) December 13, 2018
....stated that I did nothing wrong with respect to campaign finance laws, if they even apply, because this was not campaign finance. Cohen was guilty on many charges unrelated to me, but he plead to two campaign charges which were not criminal and of which he probably was not...

— Donald J. Trump (@realDonaldTrump) December 13, 2018
....guilty even on a civil basis. Those charges were just agreed to by him in order to embarrass the president and get a much reduced prison sentence, which he did-including the fact that his family was temporarily let off the hook. As a lawyer, Michael has great liability to me!

— Donald J. Trump (@realDonaldTrump) December 13, 2018