Meek Mill Says Ex Nicki Minaj Has Him Blocked On Instagram
By Peyton Blakemore
December 17, 2018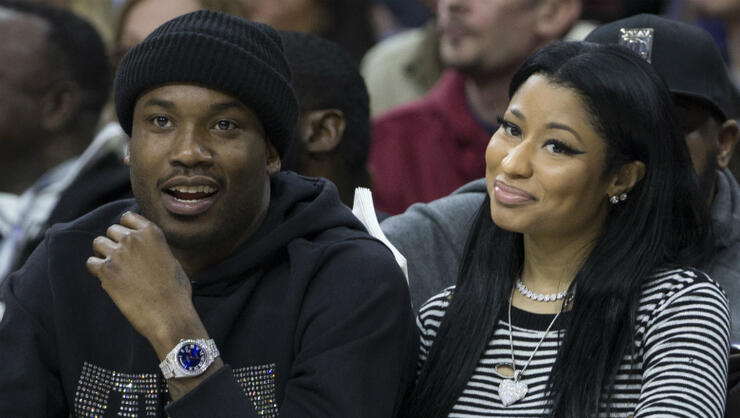 #AskMeek — the hashtag Meek Mill created to interact with his fans on Twitter — is really the gift that keeps on giving. (It has truly blessed fans with so much tea!)
During the Championships rapper's Q&A on Twitter Sunday (December 16), he made a major revelation about the status of his relationship with his ex Nicki Minaj, and let's just say, it doesn't seem like Nicki wants anything to do with him. After a fan asked how the "Going Bad" rapper feels about Nicki's "new dude," whose troubled past has been the talk of the hip-hop community, Meek responded in the most real way possible. "I don't feel nothing ... and I don't know that man to judge him," he wrote before revealing why he hasn't been able to ... an opinion of him. "I went to check him out on her page and found out I was blocked." #Welp
Nicki went Instagram public with her new boyfriend Kenneth Petty last week (her first publicized relationship since her split from Meek in 2017). However, she was almost instantly bombarded with criticism of her 40-year-old beau, who she's reportedly known since high school, as fans began slamming him over his troubled past. As previously reported, he's a registered sex offender (he was convicted of first-degree attempted rape in April 1995) and he served seven years in prison for first-degree manslaughter.
I don't feel nothing ... and I don't know that man to judge him ... I went to check him out on her page and found out I was blocked 🥴🥴🥴 https://t.co/oFXE5wVtPX

— Meek Mill (@MeekMill) December 16, 2018
While Meek may not have had an opinion on Nicki's new man, he did have an opinion about her Meek diss on"Barbie Dreams." Meek addressed his ex's claim that he was still sliding in her DMs (a claim Nicki made on the track) while chatting with Vulture. "I definitely wasn't in nobody's DMs," he admitted. "And definitely wasn't nobody ducking me, sh*t. That's a fact… I actually was laughing at it, too. 'Cause there's no limits! I felt it and I liked it. That's a dope rap." The "dope rap" Meek is referencing is the bar where Nicki raps: "Meek still be in my DMs, I be havin' to duck him/'I used to pray for times like this' face-ass when I f**k him."
Photo: Getty Images
Chat About Meek Mill Says Ex Nicki Minaj Has Him Blocked On Instagram