Lady Gaga Debuts Electrifying 'Enigma' Vegas Residency
By Connor Hachey
December 28, 2018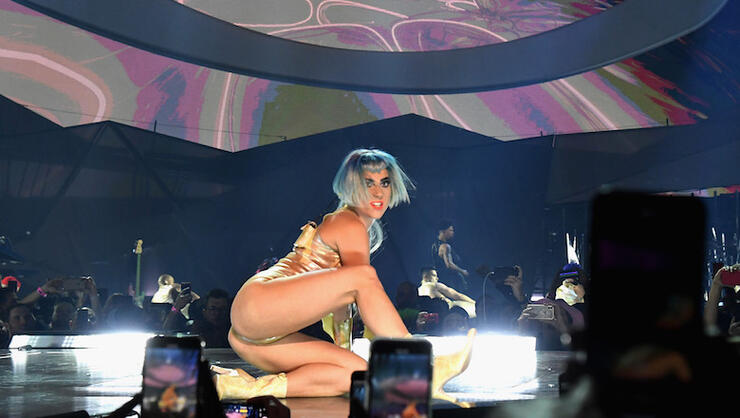 Back in 2013, Lady Gaga lyrically declared to the pop-universe that 'Enigma pop-star is fun' on ARTPOP's synth-heavy "Aura." After Friday's (December 28) residency launch at the Park Theater in Las Vegas, not only is the show beyond fun but it represents Lady Gaga at her visual, vocal and creative prime.
Enigma is an amazing return to form for Lady Gaga, who had to cancel the remainder of her Joanne World Tour back in February due to fibromyalgia complications. It provides a high-octane, powerful romp through her expansive discography. From The Fame to her most recent A Star Is Born soundtrack release - fans get to enjoy a little bit of it all.
Perhaps a nod to her infamous Super Bowl LII halftime show entrance, Gaga kicked off the night by leaping from the ceiling of the venue. Watch below as she glides above the crowd while breaking into fan-favorite "Just Dance."
Early career successes "Poker Face" and "Love Game" soon followed along with the chance to meet the animated being known as Enigma. The character becomes an important show fixture and presents a physical embodiment of Lady Gaga's self-described 'inner voice.'
The questions that you have about yourself...who you are, what you are, where you are going and why. I'm the being that holds that space for you. The parts of your brain that you don't understand are filed in mine and I carry it for you here on planet Enigma. There are many of us here. Every human has one. We protect the parts of you that feel misunderstood...I have something to show you - your future.
Enigma has many conversations with Gaga and works as the glue that holds the narrative of the show together. Through the song performances we see snapshots of Lady Gaga's rise to infamy and through Enigma we're given context on how all those moments have lead Mother Monster to where she is today.
In a moment of clarity towards the ends of the performance Gaga opened up about what inspired the creation of this character.
My enigma...it's my inner voice. That's why she came to me. Cause I stopped listening to myself. I stopped paying attention to my gut and what my inside was telling me....I started listening to the lies people around me were telling me...if you take anything away from here when you leave tonight...listen to your inner voice.
All eras of Lady Gaga's career end up being honored in the Enigma setlist, clocking in at a length of 20 songs. Although some changes could be made in the future, the premiere show song order is as follows:
"Just Dance"
"Poker Face"
"LoveGame"
"Dance In The Dark"
"Beautiful, Dirty, Rich"
"The Fame"
"Telephone"
"Applause"
"Paparazzi"
"Aura"
"Sheiße"
"Judas"
"Government Hooker"
"The Edge Of Glory"
"Alejandro"
"Million Reasons"
"You And I"
"Bad Romance"
"Born This Way"
"Shallow"
One of the biggest shocks of the night arrived during "Born This Way" deep-cut Sheiße's performance. Gaga emerges from stage left commanding a monstrous, flashy robot.
The crown-jewel of Enigma has to be the closing performance of "Shallow" from the soundtrack to Lady Gaga's award-winning A Star Is Born film. She tells the audience "I'm so proud to be your star...but the truth is you gave birth to me." Towards the beginning of the song Gaga becomes a bit overcome with emotion, but pauses to collect herself and continues on to knock it out of the park.
As with any other Lady Gaga concert event, her "Little Monsters" came to the Park Theater dressed to impress. Swipe below from some of the audience's greatest looks and also view some of the merchandise available for purchase on-site.
Enigma will alternate with Lady Gaga's Jazz & Piano show at the Park Theater throughout the end of 2018. New events for 2019 have just been announced from January until the beginning of November.
Photo: Getty Images
Chat About Lady Gaga Debuts Electrifying 'Enigma' Vegas Residency