How Pavarotti Helped Ian Gillian Love "Smoke on the Water"
By Andrew Magnotta
January 2, 2019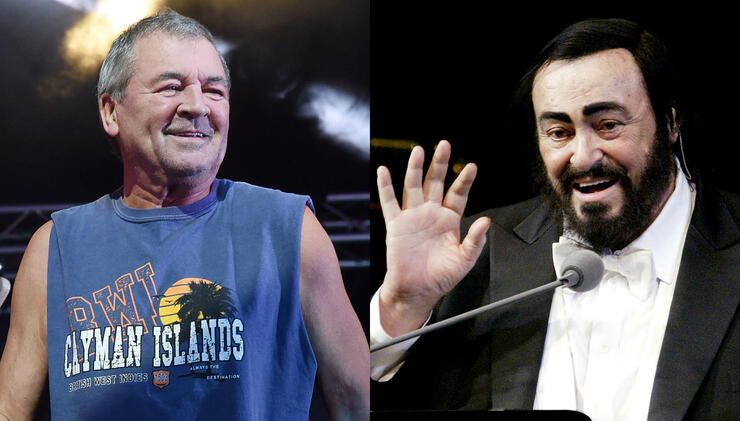 If you've ever been in a guitar shop, you've surely been assaulted by the familiar strains of The Riff from "Smoke on the Water" played loudly and, most likely, incompetently.
The song has become something of a conundrum for rock fans. Like "Sweet Child O' Mine" or "Stairway to Heaven," "Smoke on the Water" is ubiquitous yet our memories are loaded up with unspectacular experiences with the song.
On the other hand, Deep Purple front man Ian Gillian is one of about five people in the history of the world who have performed "Smoke on the Water" more than the average rock fan has heard it. Despite mixed feelings of many fans, Gillian has remained positive over the years about his most recognizable work.
As he recently explained to Eddie Trunk, if he was ever going to roll his eyes at the idea of singing "Smoke on the Water" for the 1 millionth time, a conversation with opera legend Luciano Pavarotti set him straight for good.
Gillian told Trunk that he struck up a friendship with Pavarotti before the two collaborated on a Pavarotti & Friends benefit concert around 2003.
"He was an amazing man, amazing. Full of humanity, and a great sense of humor," Gillian said, before recalling Pavarotti's explanation for why he was such a big fan.
"He said, 'Ian, I'm so jealous of you. I've heard you sing 'Smoke on the Water' six times now. Every time is different.' He said, 'Sometimes you're driving it, sometimes you lay back, it's different in the smallest way but every time. If I did that to any of my famous arias — if I ever moved one smidgen, one iota, from the original interpretation, the critics and the fans would crucify me. My career would be over. So you have freedom.'"
While Gillian and his band mates have for a long time reveled within Deep Purple's improvisory structure, hearing Pavarotti's reason for appreciating it gave Gillian some perspective on his career which he's cherished ever since.
"[The song] never bores me," Gillian reiterated. "It's a great lyric, it's a narrative, it's a true story."
This past fall, Deep Purple wrapped up the final dates of its Long Goodbye tour. The band has openly contemplated retirement, but Gillian and some of his band mates don't believe they are finished just yet.
If and when Deep Purple announces more tour dates, find them here.
Photo: Getty Images
Chat About How Pavarotti Helped Ian Gillian Love "Smoke on the Water"