A Jury Will Decide Whether Ed Sheeran Plagiarized Marvin Gaye Song
By Paris Close
January 4, 2019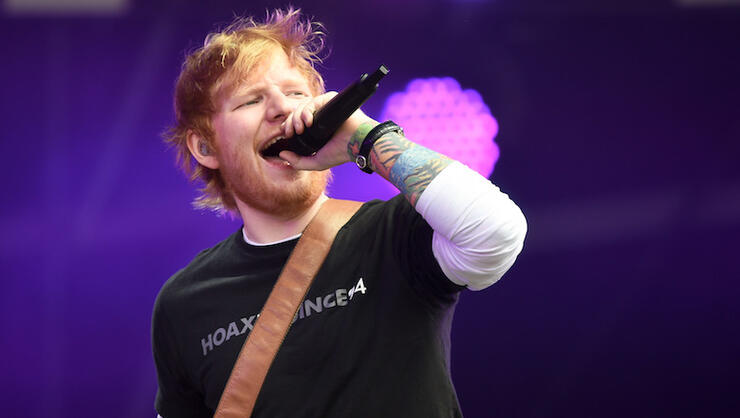 Ed Sheeran has been ordered to face claims of plagiarism over a Marvin Gaye track.
According to Reuters, a U.S. district judge denied the "Shape of You" singer's appeal to drop a copyright infringement lawsuit that alleges Sheeran copied substantial "musical elements" from Gaye's iconic 1973 record "Let's Get It On" for his 2014 smash "Thinking Out Loud."
After discovering "substantial similarities between several of the two works' musical elements," Judge Louis Stanton ruled on Wednesday (January 2) in Manhattan that a jury should determine whether the pop star, Sony/ATV Music Publishing and Atlantic Records, should be culpable for repayment to the beneficiaries of the music icon's estate and late producer Ed Townstead, with whom Gaye co-wrote the song.
The report asserts Stanton found correspondences between the songs' "bass lines and percussion," though the case will argue whether the "harmonic rhythm" of Gaye's track is "too common to deserve copyright protection." Additionally, he believes jurors "may be impressed by footage of a Sheeran performance which shows him seamlessly transitioning between [the songs]."
The crooner rejected these copying allegations when they first emerged in 2016. "The Defendants copied the 'heart' of 'Let's' and repeated it continuously throughout 'Thinking,'" the original lawsuit read at the time. "The melodic, harmonic, and rhythmic compositions of 'Thinking' are substantially and/or strikingly similar to the drum composition of 'Let's.'"
In December 2018, a judge ordered Pharrell and Robin Thicke to pay $5 million to the late R&B legend's estate for sampling Gaye's "Got to Give it Up" for their 2013 collaboration "Blurred Lines" after a five-year legal battle.
Listen and compare the tracks below.
Chat About A Jury Will Decide Whether Ed Sheeran Plagiarized Marvin Gaye Song