Kevin Hart Might Return As Oscars Host After Ellen Comes To His Defense
By Peyton Blakemore
January 4, 2019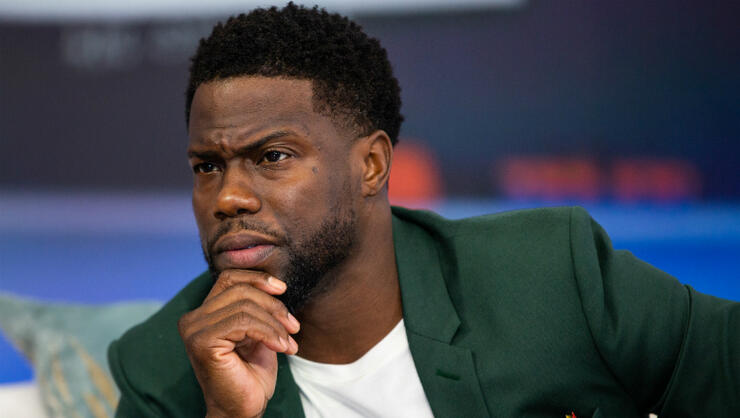 Ellen DeGeneres has Kevin Hart's back.
While the shamed comedian was on The Ellen Show — airing Friday (January 4) — promoting his new movie, The Upside, Kevin opened up for the first time about his 2019 Oscar controversy, which prompted the daytime talk show host to reveal how she's stepped in to help him get the hosting gig back.
As previously reported, Kevin received almost immediate backlash for his appointment as host of the 2019 Oscars after multiple homophobic tweets he shared from 2009-2011 resurfaced. In one of the tweets, posted in 2011, Kevin wrote: "Yo if my son comes home & try's 2 play with my daughters doll house I'm going 2 break it over his head & say n my voice 'stop that's gay." The backlash only intensified after Kevin refused to apologize for his controversial words (saying he had already previously apologized), and ultimately, he chose to step down from hosting the show.
"I called The Academy today, because I really want you to host the Oscars," Ellen told Kevin after he defended his decision to step down from hosting the awards show. "I was so excited when I heard that they asked you. I thought it was an amazing thing and how important it was and how it was a dream. So, I called them. I said, 'Kevin's on. I have no idea if he wants to come back and host, but what are your thoughts?' And they were like, 'Oh my, God! We want him to host. We feel like maybe he misunderstood or it was handled wrong or maybe we said the wrong thing, but we want him to host.'"
"The Academy is saying, 'What can we do to make this happen?' And I'm saying to you, as one of the smartest people I know, one of the funniest people I know...what we're going to get to see onstage with you hosting the Oscars is sophistication, class, hilarity and you growing as a person. Because most people would say, 'I'm walking away. I'm not going back. I'm going to go back and forth.' But for you to be the bigger man, for you to say, 'I understand and I'm not going to pay attention?' There are so many haters out there. Whatever is going on the internet, don't pay attention to them. That's a small group of people being very, very loud," Ellen continued her pitch to get Kevin to host the show. "We are a huge group of people who love you and want to see you host the Oscars."
While Kevin said he appreciated Ellen's words, he revealed that he believes the dredging up of his old homophobic tweets was a part of a bigger plan to ruin his career and essentially "destroy" him, which is the main reason he stepped away. However, Ellen didn't take no for answer, telling Kevin, "They're going to win if you don't host the Oscars. Then they win!"
Kevin ended the conversation saying hosting the Oscars isn't completely off the table. "You have put a lot of things on my mind," he told Ellen. "I know where our relationship stands, so leaving here, I promise you I'm evaluating this conversation. This is a conversation I needed to have. I'm glad that I had it here, and I'm glad that it was as authentic and real as I could have hoped that it would be," he said. "Let me assess, just to sit in this space and really think—and you and I will talk before anything else."
Chat About Kevin Hart Might Return As Oscars Host After Ellen Comes To His Defense