Kevin Hart Talks Oscars Controversy & If He Would Ever Host If Asked Again
By Taylor Fields
January 4, 2019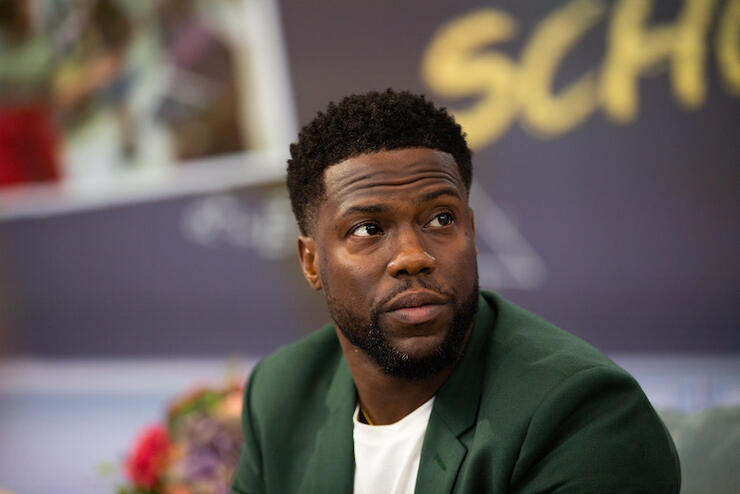 It's been nearly a month since Kevin Hart opted to relinquish his 2019 Academy Awards hosting duties after several homophobic tweets posted between 2009 and 2011 resurfaced. The tweets contained derogatory language referring to the LGBTQ community in addition to comments on sexuality. Now, the actor is opening up about everything that has happened since stepping down from being this year's Oscar's host and its surrounding controversy.
Hart recently appeared on Variety's "Playback with Kris Tapley" podcast and reflected on the last several weeks, his apology, why he really gave up his spot has Oscars host, his current relationship with the Academy, and if the door is still open for Hart to host the annual awards show.
Over the last few weeks, Hart has apologized for his tweets and during the "Playback" podcast and it seems he has taken away an important lesson. He told Tapley, "Not only did I address it, I apologized, and after apologizing I said I understand why people would be upset from these tweets, why people would be hurt, why people would be damaged, and you know what? I get it. So not only am I sorry, I'm going to make it a point to never joke like this again because I understand." He added, "So within a 10-year span of my career you don't see any blemishes. You don't see any signs of me going back to that young comedian that I was then that was looking for an ignorant laugh."
As for why he ultimately stepped down as the host of this year's Academy Awards, as he stated in his original apology on social media, that he did not want to be a "distraction" during the show. He explained:
"Me doing the Oscars was to take the tension off of the Oscars. It's been so uptight for the last I don't know how many years. 'Kevin we want you to host because we want you to lighten the mood up and bring you and your essence to this night.' That was immediately taken away, because any promo that I do leading up to it, I'm still talking about past tweets that I've addressed years ago. Me touching the stage at the Oscars, I would then have to address the tweets that I talked about from years ago. It just made me say to myself, 'I'm not going to play the game that society wants people to play right now.' Your past is your past for a reason. When you apologize for something, either your apology is accepted or it's not. If it is, then we move forward and what you do when you move forward is become better. So when there's signs of an individual becoming better, when there are signs of an individual doing better, then what else is really needed?"
In Hart's original apology posted to social media in December, he said, "I have made the choice to step down from hosting this year's Oscars. This is because I do not want to be a distraction on a night that should be celebrated by so many amazing talented artists. I sincerely apologize to the LGBTQ community for my insensitive words from my past. I'm sorry that I hurt people... I am evolving and want to continue to do so. My goal is to bring people together not tear us apart. Much love & appreciation to the Academy. I hope we can meet again."
Hart says that he believes the apology was done in a "fashion that was true to [him]" and even apologized again adding, "I'll state it again, to anybody I've hurt, I'm sorry." He also added, "I'm not going to partake in hosting the Oscars at this point.
While Hart may not be hosting the Oscars this year, could the door still be open to host in the future? The comedian says, in regards to his relationship with the Academy that there is "no ill will" but that he "wouldn't do it" -- ever, even despite his recent support from Ellen DeGeneres.
He further explained, "It's done. The moment came and it was a blessing and I was excited at the opportunity, and I still am. In my mind I got the job, it was a dream job, and things came up that simply prohibited it from happening. But I don't believe in going backwards. When I go on that stage, it will be because I've somehow figured out a way to win the Oscar. Somehow I'll get to the stage but it's not going to be in this way, because it just comes with such a weird cloud at this point. But there's no ill will toward the Academy at all."
Hear what else Kevin Hart had to say in this new episode of "Playback with Kris Tapley" above.
Photo: Getty Images
Chat About Kevin Hart Talks Oscars Controversy & If He Would Ever Host If Asked Again