Pete Davidson & Machine Gun Kelly Hit The Golden Globes After-Party Circuit
By Hayden Brooks
January 7, 2019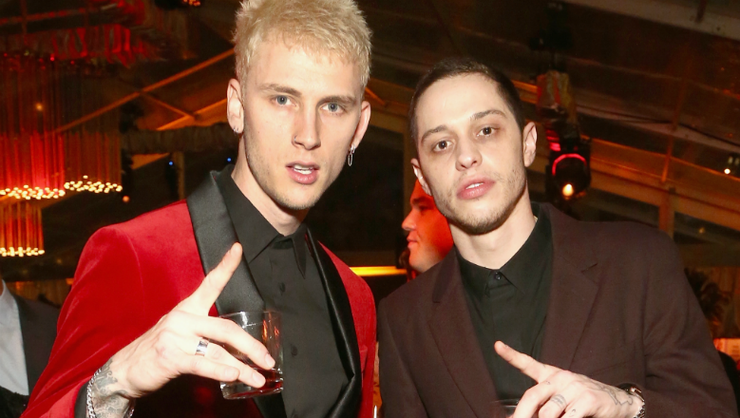 Pete Davidson and Machine Gun Kelly were two peas in a pod during the all-star Golden Globes weekend.
On Sunday night (January 6), the 25-year-old Saturday Night Live comedian and the 28-year-old rapper took to several events, including the InStyle and Warner Brothers' Golden Globes After-Party at The Oasis Courtyard of the Beverly Hilton in Beverly Hills, California, and it seems like their outing was true to their party ways. "They regret the invite," the rapper captioned a quirky video of the pair lighting up a cigarette in an elevator, before giving the bellboy a tip. MGK and Davidson hopped around to other parties, where the former appeared alongside his Bird Box co-stars Danielle MacDonald, Frankie Shaw, Ben Robson, Alexander Ludwig, and Jack Quaid. Meanwhile, Page Six reported that Davidson left another shin-dig with none other than Kate Beckinsale. "They were flirting all night and sipping champagne," an insider told the outlet. "They were outside on the patio and left together."
Earlier in the weekend, Davidson and MGK were spotted courtside at the Pepsi Center in Denver, Colorado, watching the Nuggets take on the visiting Charlotte Hornets. Davidson was all smiles as he greeted a fan and watched the home team defeat the Hornets, 123-110.
Davidson's weekend appearances arrives less than a month after the star took to Instagram to share an alarming note. "I really don't want to be on this earth anymore," he wrote in the since-deleted Instagram letter, which prompted a bigger celebrity duel between his former fiancé, Ariana Grande, Kanye West, and others. He has since reportedly turned to the guidance of family, friends, and professionals during his time of need.
Chat About Pete Davidson & Machine Gun Kelly Hit The Golden Globes After-Party Circuit