Nicki Minaj Threatens To Expose Meek Mill's 'Secrets' — He Fires Back
By Peyton Blakemore
January 8, 2019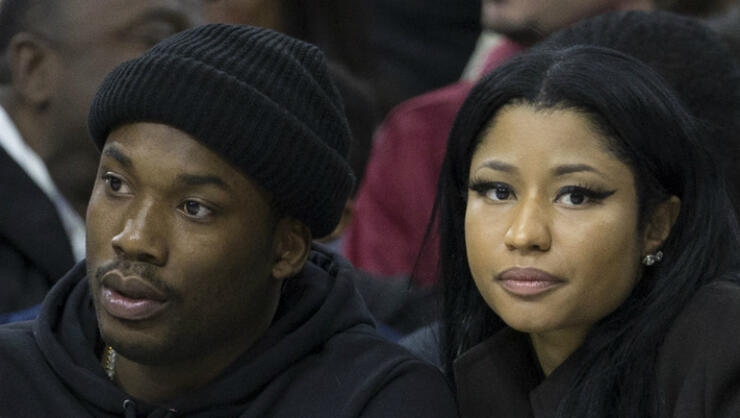 It looks like time doesn't seem to heal all wounds — especially when those wounds are the result of a messy break-up.
Nicki Minaj had her ex-boyfriend Meek Mill on the brain during her recent concert in Australia. The "Ganja Burn" rapper literally stopped her show to call him out, interrupting her hit "Barbie Dreams." Right after she rapped the lyric "Meek still be in my DMs, I be having to duck him," she told the DJ to "hold on," pausing the music, and she rapped the line again with emphasis. Nicki then proceeded to tell the audience: "I mean, I could tell you secrets but I won't, 'cause being a bitter bi*ch is what I don't."
Meek didn't waste any time responding to his ex's threat, issuing a warning of his own. "Why you be sooo mad at me and not the people that came right at ya neck! I'm cool I'm doing good lol something is wrong here," he wrote. "Leave me alone you know I get a lil too out of control with the truth!" Meek concluded his response with, "Keep it classy."
Nicki and Meek called it quits back in January 2017 after two years together. While it's been years since the former couple was an item, the Philadelphia-born rapper recently revealed that his ex blocks him on social media — the first sign that there was bad blood between the two, at least on Nicki's end.
Back in November, Meek praised his ex for his shoutout on "Barbie Dreams," but also denied sliding in her DMs — a claim Nicki makes on the track. "I definitely wasn't in nobody's DMs," he told Vulture. "And definitely wasn't nobody ducking me, sh*t. That's a fact… I actually was laughing at it, too. 'Cause there's no limits! I felt it and I liked it. That's a dope rap."
Photo: Getty Images
Chat About Nicki Minaj Threatens To Expose Meek Mill's 'Secrets' — He Fires Back