Chrissy Teigen Turns Son Miles Into 'Mini-John' Legend For Husband's B-Day
By Peyton Blakemore
January 13, 2019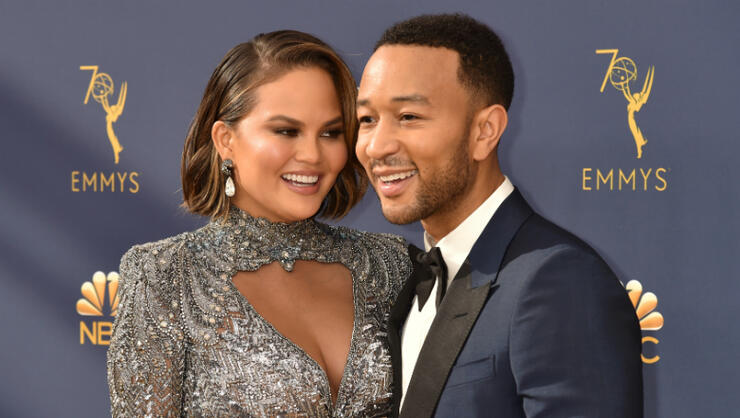 Talk about cuteness overload!
While John Legend turned 40 last month, Chrissy Teigen threw her hubby a belated birthday party Saturday (January 12) night. However, there was still one tiny detail she needed help figuring out — which tuxedo she should put her 7-month-old son, Miles, into for the black-tie affair. So, she did what any tweeting-loving mom would do, she asked her Twitter followers. "Okay guys. Throwing john's 40th birthday party tonight but need your help dressing mini-john. Which one!" she captioned a beyond cute photo of Miles, who looked so much like his dad, wearing a black tuxedo jacket in one photo, and a white tuxedo jacket in another.
As the responses poured in, Chrissy decided to create an online poll so her followers could easily answer her question. "Ok let's make this easier," she tweeted alongside the new poll.
As fans know, John's belated birthday celebration came weeks after he actually turned the big 4-0. Back in December, the cookbook author (and professional Twitter user), shared a heartfelt and, of course, hilarious birthday post to social media to wish her husband a happy birthday.
"Happy 40th birthday to the most incredible man," Chrissy captioned a series of photos of John. "The best father, hardest worker, best lover, best friend I could ever imagine. Every day I am grateful for how much you love us and how much you both say it and show it." She then added, "You are one of a kind. I am grateful to your family for creating and raising such a pure, sweet, brilliant man. The world has been blessed by your 40 years on this planet. I love you. I showed you that this morning BOOYAHHHH."
Photo: Getty Images
Chat About Chrissy Teigen Turns Son Miles Into 'Mini-John' Legend For Husband's B-Day