Petition Wants Maroon 5, Travis Scott, Big Boi To Take A Knee At Super Bowl
By Hayden Brooks
January 15, 2019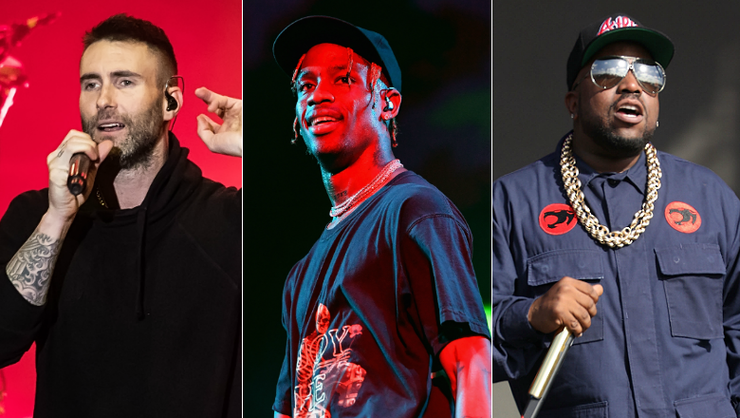 Maroon 5 is your official Super Bowl LIII halftime show performer and the pop spectacle is set to feature special guests Travis Scott and Big Boi. However, there's a new request from the creator behind the Change.org petition, which originally asked M5 to step down from the gig to stand up for racial injustice, and this time he's requesting that all performers take a knee during the set.
In the newly-updated petition, the owner has changed the goal and asked for folks to join in on the movement. "We helped change the convo & perception of the Super Bowl halftime stage. Performers still agreed," Vic Oyedeji, founder of Unstrippedvoice and the petition's creator, tweeted on Monday (January 14). "We ask @maroon5 @trvisXX & @BigBoi to #TakeAKnee during your Super Bowl set - showing solidarity to @Kaepernick7 to the MILLIONS watching."
Speaking with Billboard, Oyedeji insisted that this move can be the one saving grace to "preserve their reputation." "I have nothing against the band, this isn't about them and they just got caught in the crossfire," he said. "I'm saying the only way for them to preserve their reputation is to take a knee during their set to show the hundreds of millions of people watching their solidarity with Colin Kaepernick and the players who are protesting police brutality."
Rihanna, Adele, JAY-Z, P!nk and Cardi B have all reportedly turned down this year's halftime slot as part of the movement to support Kaepernick and his agenda to highlight racial injustice in America. Super Bowl LIII will take place on February 3 at Atlanta's Mercedes-Benz Stadium.
Chat About Petition Wants Maroon 5, Travis Scott, Big Boi To Take A Knee At Super Bowl