Lauren Jauregui's 'More Than That' Video Shows 'Aphrodite's Visit To Earth'
By Hayden Brooks
January 18, 2019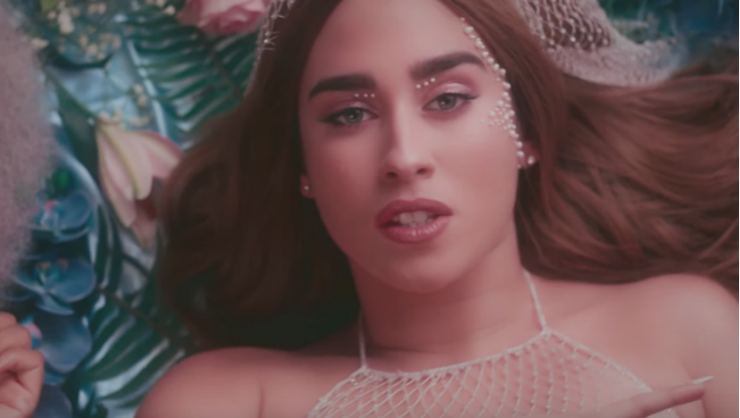 Just last week, Lauren Jauregui unveiled the stunning cover art for her new single, "More Than That," and we're happy to see that the artwork was taken at the shoot for the accompanying music video.
On Friday (January 18), the former Fifth Harmony bandmate delivered the hazy clip for the mid-tempo track and it continues her drastic departure from her 5H past. Alongside four gal pals, the 22-year-old is seen driving to an all-female strip club called Olympus, before joining the rest of the female crowd to marvel at the dancers. Scenes of her angelic-like set-up flash in between the show, but nothing takes away from Jauregui's own stage performance when a dancer invites her to the eye of the storm. "This video is Aphrodite's visit to Earth," Jauregui told Vogue via e-mail. "She finds herself in a unique club surrounded by the earthly embodiments of the divine feminine. They all are completely entranced by the strength and sensuality of the four earth goddesses before them."
"You gon' have to come stronger than this liquor/ Wanna take me home, better be more convincing/ It'll take more than that to get to me," the budding solo star sings over the Murda Beatz and Charlie Handsome co-produced number. "More Than That" follows the star's debut solo single, "Expectations" and was previously performed at the MTV Elections Afterparty.
In our previous interview with Jauregui, the singer admitted that it took some time for her to find her own voice as she forged ahead with her solo career aspirations. "I think I just had aversion to try music because I was so nervous that I wouldn't be good enough at it because there's so many amazing artists out there, first of all, that I'm so inspired by," she said. "And second, it's just a really scary world of comparison on social media and now in the critic department. It's hard to want to begin a narrative from your soul when someone could really tear it down."
Photo: YouTube/Lauren Jauregui
Chat About Lauren Jauregui's 'More Than That' Video Shows 'Aphrodite's Visit To Earth'