Tony Iommi Names His Favorite Guitar Riffs of All Time
By Andrew Magnotta @andrewmagnotta
January 18, 2019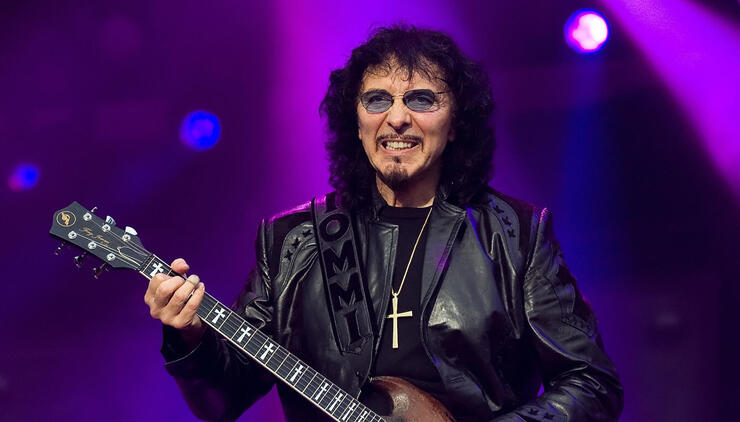 Black Sabbath guitarist Tony Iommi is probably the greatest heavy rock riff-writer in rock and roll history, having authored the most memorable parts of heavy metal's most iconic tunes.
Iommi's hands of doom are so influential they have spawned entire sub-genres of rock devoted to Black Sabbath worship.
So what does Iommi think is the greatest guitar riff of all time?
"That's even harder," he told Metal Hammer in a new interview. "There's so many great riffs out there from the past, and up-to-date stuff.
"But you've got to have Deep Purple's 'Smoke on the Water.' And of course, there are a lot of [Led] Zeppelin songs. Jimmy Page has some great riffs."
For his part, Iommi says "Into the Void" is probably his favorite riff of his own making. He added that "Heaven and Hell" and "Neon Knights," both from Ronnie James Dio's time with Black Sabbath are other highlights.
The guitarist reiterated his prior statements that he's not finished making music. He said that throughout his career, songs have come to him "at different times, different places."
He says there are some ideas remaining from Black Sabbath's 13 album that he's yet to work up into songs.
"Well, I've got a few that I haven't used yet that were good," he explained. "There's about four or five from the last Sabbath album that we didn't use. I listened to a CD with them on recently. I thought, 'Blimey, that's good, why didn't we use it?'"
This past summer, Iommi revealed that he planned to begin recording his new ideas in the fall and winter.
Iommi's former Black Sabbath band mate, Geezer Butler, recently released a new song with his band Deadland Ritual and revealed plans to record a full-length album and begin performing live this summer.
Photo: Getty Images
Chat About Tony Iommi Names His Favorite Guitar Riffs of All Time